Luis Suarez Charged With Violent Conduct Following Ivanovic Bite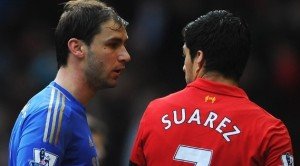 The News Desk, much like the rest of the world, has been waiting all morning for the other shoe to drop and it looks like the well polished loafers of the FA just got unlaced. 
Almost immediately following the incident, both Liverpool Football Club and Suarez himself apologized for his actions in an unequivocal statement of culpability and earlier today, the club confirmed that the striker would be dealt a fine of an undisclosed amount with the proceeds going to Hillsborough Family Support Group at his request. After Merseyside police confirmed that no action would be taken against Suarez, the last link in the chain was the Football Association – who has responded in kind by charging him with violent conduct. Though this charge normally carries with it a three match ban, they were quick to add that the standard punishment was "clearly insufficient in these circumstances" though no elaboration was made as to any additional sanctions to come. The Uruguayan International has until 18:00 BST on April 23rd to formally respond to the charges.
Suarez has been no stranger to controversy throughout his career and this latest incident has garnered widespread condemnation from the wider footballing community with a number of pundits and talking heads alike calling for lengthy bans for the striker. While we're lucky that some of them aren't in charge of the proceedings, knowing that the matter is now in the competent hands isn't exactly reassuring.