Liverpool and the Suarez Conundrum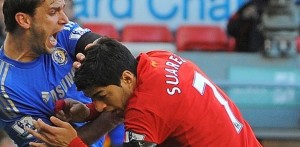 I'm sure I'm not the only one that's been left a bit dumbstruck by Sunday's events. If the return of Rafa Benitez to Anfield and the minute's applause to celebrate the life of Hillsborough Justice Campaigner Anne Williams wasn't enough, then the way the match ended – Luis Suarez pulling us level with the last kick of the ball – would be enough to send you into a post-match sense of dazed euphoria.
It almost goes without saying that the events mentioned above will not be the focal point of this particular article and that the latest Suarez induced debacle will unfortunately have to overshadow footballing matters for the time being. As much as I'd rather ignore this latest escapade and pretend like it didn't happen, discussing the madness of the whole biting fiasco is sure to take up a huge chunk of our time in the days to come.
Was that too soon? Maybe making light of this particular incident isn't acceptable so early in the game, but when you're a Liverpool fan who has supported our Luis through thick and thin, your coping mechanisms quickly kick in as he hops along from scandal to scandal. Not long after the match, the Uruguayan publicly admitted to biting Branislav Ivanovic and released an unreserved apology to everyone concerned – the player himself, his teammates, the fans of both clubs, management and, of course, to the Liverpool hierarchy. Before anything was even confessed, Brendan Rodgers was quick to point out in his post-match interview that no one is bigger than the club and his words may prove prophetic as this particular incident unravels.
If we can, let's get this out of the way early: Suarez's actions are inexcusable and reprehensible, though hardly worse or even on par with some of the higher profile violent conduct incidents in recent memory. The actions of Roy Keane, Joey Barton and Eric Cantona quickly come to mind – but does that make what Suarez did defensible? Sensible? Acceptable? Absolutely not and trying to pass one off while condemning the other is no argument whatsoever; though, the FA choosing to charge the striker with violent conduct, which is almost always carries a three match ban, and in the same breath pointing out that this is "clearly insufficient in these circumstances" is a bit odd.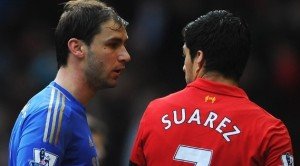 Merseyside Police have confirmed that no action will be taken against the player after Branislav Ivanovic graciously refused to pursue the matter further, but it's not the long arm of the law that anyone was worried about anyways. There's no need to question his guilt – only his punishment.
I've never been one to argue that footballers, or any entertainers for that matter, should be role models, but the kind of repeated disregard for common sense that Suarez continues to display has begun to reach a point where even attempting to defend his actions becomes a non-starter. In this particular instance, the bizarre nature of his actions – biting a fellow professional – coupled with the fact that this is not the first time he's done this only exacerbates the notion that something continues to go horribly wrong with his decision making process. It's within recent memory that he was facing retrospective action from FIFA over an altercation with a opposition player while on international duty and his "punch" was a hotly contested topic of debate – which begs the question that if he had punched Ivanovic on Sunday instead of sinking his teeth into him, would the furore and condemnation raining down on him be quite as harsh? Maybe not, but it would of made it far simpler for the FA to deal with.
Besides his previous infraction, which was handled by the Dutch Football Association as he was an Ajax player at the time, the only recent incident that would compare would be Tottenham striker Jermaine Defoe biting West Han United midfielder Javier Macherano. This incident was spotted by the ref during the course of play and Defoe was immediately shown a yellow card with no retrospective action taken by the FA as it was handled by referee during the match. So, if an English striker receives a only a yellow card for biting an opponent because it was spotted by the ref and a foreign player is given a lengthy ban due to the same infraction not being spotted by the ref, does the Football Association retain its guise of impartial and fair judgement?
In the meantime, the Professional Footballers' Association has offered the Uruguayan anger management therapy in an attempt to stem any further outbursts. The fact that the striker could very well be named Player of the Year also poses a problem for the PFA with its Chief Executive, Gordon Taylor, particularly incensed on the matter.
"It would be embarrassing if he is named Player of the Year but we have got to deal with it and make sure he is player of the year not just in a footballing sense but as a human being as well and we will be trying to do that."
-Gordon Taylor
Liverpool Football Club has confirmed that they have fined Suarez an undisclosed amount and that the player has elected to have the monies donated to the Hillsborough Family Support Group. In an age where footballers make more money per week than the average person can fathom, fines seem like an empty gesture when they have no real detrimental impact on players clearing millions of pounds per year; surely there are has to be some other way for clubs to – for lack of a better word – punish players indiscretions that won't have a detrimental impact on the entire team and their results.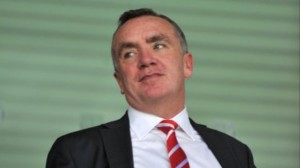 Let's be fair, football is a business and the player like Luis Suarez is extremely important to the everyday operations of the club; by all accounts, he's a World Class player and winning teams are built around the kind of talent that he possesses. While many people are calling for the club to ban the striker for an indeterminate amount of time, it's hardly in their best interest to do so. At present, Suarez sits just behind Robin van Persie as top scorer in the Premier League and is on the 6 man shortlist for the Player of the Year award. With 30 goals to his name in all competitions this season and numerous assists padding his stats, the Uruguayan has been indispensable which makes any further action on the clubs part over and above the punishment handed down by the FA highly unlikely; the club isn't going to cut off their nose to spite their face and there's no obligation whatsoever for them to do so.
With that being said, they must also strike a balance between punishment and backing if the Uruguayan is going to continue to wear the Red of Liverpool. Managing Director Ian Ayre was quick to condemn the actions of Suarez, but was just as quick to point out that he'd just signed a new four year deal and that the club had no intentions of selling off their prized asset – even after this most recent debacle.
"As we keep saying, he signed a new four-year contract last summer and we'd all love to see him here throughout that contract." "He's a fantastic player, top scorer and everything we'd want in a striker, so there's no change there."
-Ian Ayre
It's hard to argue with his logic; if you're a fan of the player or not, it's simple to make a case for Suarez finding himself in the starting eleven of most top sides in the world based on pure skill and talent alone. If it were just that, there'd be no question, but the disciplinary problems that continue to haunt him make him a volatile character more on par with Diego Marradonna than Pelé and that is what continues to be troubling. Despite the immediate backing handed out by Ayre yesterday, the clubs stance on Luis could change with the opening of the summer transfer window. Until then, we can only speculate on the clubs next move and how they will respond to the violent conduct charge.
The club has until 6:00pm BST today to respond to the charge before an independent panel convenes tomorrow and all signs point to the club quietly and unreservedly accepting whatever charge the FA chooses to hand out – and it's looking like that may be the best option. While the club backed Suarez unreservedly through his debacle with Patrice Evra last year, they'll rightly look less kindly on this latest indiscretion on the part of their star striker. There's far less grey area in which to manoeuvre and an argument of whether or not he's guilty doesn't exist which takes away our rallying point — now, all we can do is wait.
-steven.
Surely you have something to say? Go on and say your piece. We're on Facebook and Twitter for one thing, but there's also a comments section. Make use of them.