Suarez Doesn't Agree With More Than Three Matches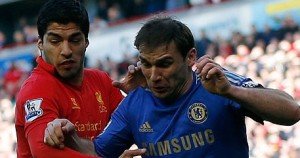 There was a relative lack of surprise around the News Desk today when word came in on the trusty old fax machine that Luis Suarez has accepted the charge of violent conduct handed down by the FA after the striker bit Branislav Ivanovic during Chelsea's visit to Anfield on Sunday.
The Uruguayan has since apologized personally to Ivanovic, who chose to not pursue the matter further with Merseyside police, and although he has accepted the FA charge, he doesn't believe his punishment should exceed the automatic three-game penalty. There could be an appeal in the works should the Football Association get heavy handed with the Uruguayan striker, but questions have been raised as to how much backing the club is prepared to show their troubled charge. Suarez will face an independent regulatory commission on Wednesday and they could choose to throw the book — or multiple books — at him for this latest transgression. More on this if and when El Pistolero is spotted pushing the book cart around FA headquarters.