Suarez Given Ten for Ivanovic Bite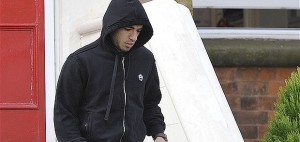 The News Desk has been waiting with bated breath for the decision of the Independent Regulatory Commission regarding the latest Luis Suarez debacle and the result was enough to knock the wind right out of you; the Reds striker has been banned for 10 matches for biting Chelsea defender Branislav Ivanovic during Sunday's 2-2 draw at Anfield.
In the wake of the decision, Liverpool Managing Director Ian Ayre said the club were "shocked and disappointed" at the severity of the punishment, though reserved any further comment – or hints at an appeal – until the written reasons are received by the club tomorrow. If the decision stands, the striker will miss the last four matches of this season and six at the beginning of the next. It was feared that the FA would go over the top on Suarez, who has been a divisive disciplinary nightmare since arriving on Merseyside, and the decision today comes with little to no surprise; though it does lead to questions of the impartiality of the process and whether the length of the ban reflects more on the player's profile or past incidents and not the act itself.
While no one, not even the News Desk, is daft enough to argue that Suarez should not be punished for his actions, the severity of it is hardly befitting. The standard ban for violent conduct, which is what the Uruguayan striker was officially charged with, carries with it a standard ban of three matches. Yesterday, the Reds attacker said that although he was accepting of the charge, he did not feel his actions warranted more than the standard ban – something the Independent Regulatory Commission obviously disagreed with. Liverpool have until Friday at 12:00 BST to appeal the decision and if you take into account that no real physical harm was done to Ivanovic, who declined pursuing the matter further with Merseyside police, the club certainly has a leg to stand on.