Talk Champions League Football and Win!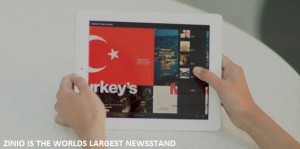 By this point we all need a quick break from the Suarez circus and what's a better neutral football subject than the Champions League?
There isn't a single English team left in the competition, and with no risk of a homegrown side singing about being the champions of Europe when they come to Anfield next season, the most important club competition in the world just got a little more interesting — and Zinio, the worlds largest news stand, wants to help you enjoy it that much more.
Even if you're not following the action, you've probably got an opinion on who's going to be stepping out under the bright lights of Wembley in the final and all you have to do is let us know on Twitter and you could win 1 of 10 free subscriptions to the digital magazine of your choice.
Zinio is home to thousands of top magazines from around the world. You can browse and purchase subscriptions or single issues instantly from your iPad, iPhone, Android phone or tablet, as well as laptop and desktop computers. The store is stocked full of popular titles like Four Four Two, World Soccer, Champions Matchday and Soccer America. If you want to expand your horizons, you can even pick out a non-football related magazine; though we're not quite sure why you'd want to do that.
If you can't seem to get enough, right now Zinio is giving you 40% off on all football magazine subscriptions until May 30th and until April 30th you can save up to 50% off of over 100 participating titles.. And while you're kicking back with a good read, you can give yourself a pat on the back for saving a tree with your fancy digital magazine — which you hopefully got for free just for talking about football with us!
It's looking like it's going to be an all German affair after the first leg of the semi-finals saw both Real Madrid and FC Barcelona put to the sword by their Bavarian opponents, but do you see a comeback on the cards? Can either of Spaniards turn the ship around and set a course for London? Head over to Twitter and let us know what you think and you could be one of our lucky winners.
Sounds easy enough doesn't it? Winners will be contacted on Friday May 3rd.