Philippe Coutinho Destroys Newcastle: Video and Stats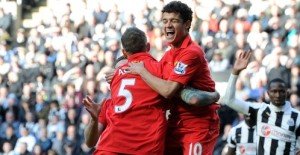 By now, the proof has certainly settled into the pudding; in only 9 appearances since his January move from Inter Milan, Philippe Coutinho has racked up two goals and four wonderful assists to cement his place as one of the transfers of the year.
Snarky apprehension from some quarters raised questions whether the undoubtedly talented youngster would be able to ply his trade in the more physical Premier League, but less than 10 games in, he's come through with flying colours. Thankfully, those colours are red on red and during Liverpool's 6-0 romp at Newcastle yesterday, the Brazilian was the architect, spraying perfectly weighted through balls all over the field and beating players at at canter.
Video by @MostarLFC
Yes, he's that good

There's always a bedding in period for South American players in the Premier League, but Coutinho had adapted fast and his display against Newcastle was more in line with a seasoned vet than a still green 20 year old.Surprisingly, he completed only 72% of his passes — with a manager than values possession above all else, this will be a point of contention with the boss, though his attacking contribution would more than make up for it. 63% of his passes were made in the the attacking half — completing 79% of them — and 43% of them were made in the final third — and 80% of them found their mark. With 57% of his passes going forward and 5 of them into the penalty area, Coutinho continually made the Magpies back line look like rank amateurs with not only his pace and movement, but his through balls — of which he completed 3 out of 5 — were a thing of real beauty.In his 84 minutes on the pitch, the Brazilian racked up 1 assist and created 2 chances. Though he didn't score, the 2 shots he took were both on net and 1 of them hit the woodwork. Brazilians aren't known for their defending, yet he won 50% of his tackles and 50% of his ground duels and regained the ball in midfield — 7 times — more than anyone else on the team. He's still looking a bit lightweight at time though and he lost possession — 18 times — more than any other attacking player. Still, for a 20 year old kid still finding his way in a unfamiliar league, it was all in a days work.Stats courtesy of EPLindex.com
Although Brendan Rodgers is more apt to praise the collective effort rather than personal performances, the boss had nothing for praise for the youngster after the match. "He is a very humble boy. He is learning very quickly and has quickly adapted to this country. I think he was born with a football at his feet. He has got a wonderful touch."
There were concerns that Liverpool wouldn't get going without the suspended Luis Suarez and this was the case more often than not during the Uruguayans previous absences, but the mercurial striker was hardly missed as another South American stepped up and helped his teammates hit the same heights; now we just need him to do it for 9 more matches. No pressure or anything…
–steven.
These posts wouldn't quite as good without the hard work of the LFC community. Give @MostarLFC and @EPLIndex some love in the Twitterverse.