Liverpool (6) Newcastle (0): In Fairness, We Wanted Seven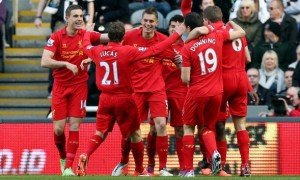 Newcastle United staked a claim for a spot in the relegation battle as Liverpool scored six unanswered goals and erased any advantage the Magpies were harbouring with their superior goal differential.
There were questions surrounding a Reds attack without the talismanic Luis Suarez leading the line, but Brendan Rodgers men responded in kind with a man of the match performance from Philippe Coutinho helping Jordan Henderson and Daniel Sturridge provide the bulk of the goals while Daniel Agger and a fit again Fabio Borini both found themselves on the end of Stewart Downing crosses. No one will tell you that Liverpool weren't playing that well — they were absolutely electric at times — but Alan Pardew's side did themselves no favours with what was a truly dire performance.
It would take only three minutes for the Reds to open the scoring when Daniel Agger, making one of his frequent forays forward, found himself directing a picture perfect header past the stranded Robert Elliot. With Alan Pardew sending out a makeshift back line in wake of a Tyneside injury crisis, it was safe to say so early in the match that they just didn't have enough time to settle; though by the end of it, it was obvious they never quite did.
Jordan Henderson would double the advantage when a pass from Pepe Reina was laid off to Philippe Coutinho by Daniel Sturridge. The movement of the England striker is top notch and the Brazilian matched it with a perfectly weighted through ball and all of a sudden the former Chelsea man is through the Newcastle defence in a flash.
With Elliot onrushing, Sturridge easily picks out Jordan Henderson, who's found himself with acres of space to run into, and the former Sunderland man finished with ease. Both Sturridge and Henderson earn points for the build up and finish, but Coutinho putting that ball on a plate for Sturridge was much harder than Henderson hitting the back of the net. By the half hour mark, Newcastle had only registered one shot on net to Liverpool's seven, though it wouldn't be long before the Magpies had a chance to pull one back when James Perch headed well wide with the goal at his mercy after a whipped in cross from the left flank found unmarked in the box.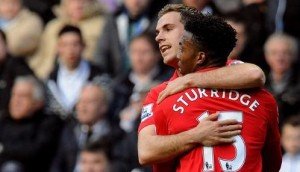 As the half wound down, Newcastle were showing some faint signs of life with a good run from Moussa Sissoko earning the home side a corner. Yohan Cabaye picked out the Frenchman in the box, but his header would come to nothing as Reina gathered and boos would ring out around St. James Park as the halftime whistle was blown. Sissoko, Hatem Ben Arfa and Yohan Cabaye would produce a good spell for the home side immediately following the break with Alan Pardew's halftime talk looking like it was going to pay dividends, yet as Newcastle looked for a foul on Ben Arfa, Coutinho would pick up the ball and do what he does best.
Even with a two goal cushion at halftime, there were no real signs of a rout being on the cards, but with a bit of Brazilian flair, the youngster practically willed the ball through a pack of scrambling defenders. Sturridge, who played creator in the first half, would take a touch to compose himself before smashing the ball high past Robert Eliot. The Reds weren't stopping there and only 6 minutes later, Jordan Henderson would return Sturridge's favour for his earlier assist when he squared across the face of goal for the striker to tap home.
Three goals is one thing, but four is another and with Sturridge scoring a brace, any illusions of a fight back that Alan Pardew's side were harbouring were quickly erased. When Liverpool made it five, it started to get embarrassing. Besides that five minutes after the restart, Newcastle were disjointed and looking more like a team that was just thrown together rather than one that had top four aspirations at the beginning of the season and with 18 minutes left, Fabio Borini returned to action, replacing Steven Gerrard.
Up to this point, the Captain had played every minute of every EPL match this season and though that fantastic run would come to an end, all was well that ended well as Stewart Downing slipped the ball across the front of goal for the Italian to poke home with only his second touch of the match for his first league goal of what an injury hit season.
Newcastle would be reduced to ten men after Mathieu Debuchy picked up his 2nd yellow card of the match for a poor challenge on the edge of the area that could have warranted a straight red and Jordan Henderson would make it six with a free kick that somehow eluded everyone to sneak in past Elliot. After three straight draws, this is how you want to respond and sending the Magpies crashing to their worst home defeat since 1925 is the boost of confidence this side needs to go on round the season out with a bang.
At this point, we're second to only the Champions in the amount of goals scored and second to only Manchester City in the amount of clean sheets kept. While seventh place is hardly the flattering finish we were looking for, we still have three matches — and two more points to our name than at this stage last season — to improve on that. It's easy to get carried away after running up such an emphatic score line with what looked like the greatest of ease, but we have a derby to contend with next weekend.
Everton won today to keep the gap between the two sides wide enough to be a bother and without European football to shoot for, we need to have a reason to finish out of the season strong: finishing above our neighbours should be the aim, as it is every season, and if we can show the kind of relentless spirit that we did today, closing the gap between the two sides shouldn't be as hard as it sounds.
–steven.
How about that for a match? Got something to say? Hit up the comments section below or find us in the Twitterverse. We've also got a Facebook if you're into that.