One More for Jamie: Everton Preview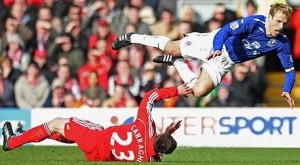 Points wise, there isn't much left to play for. The window for European qualification is all but closed for both Liverpool and Everton and neither look like they'll be able to dramatically improve their league position before the end of the campaign — still, this particular fixture is as important as ever.
There are few things better than sticking it to your closest neighbours. League position and points fall by the wayside and the city comes to a standstill when these teams cross the park. Pride has always been enough of a motivator in this fixture to spur both sides to bloodshed, but there'll be some extra impetus for the Reds come Sunday with Jamie Carragher playing his thirtieth and final Merseyside Derby before he retires. The local lad — who grew up supporting the Toffees — will join a veritable pantheon of Reds greats who've hit this milestone and it goes without saying that we can't send Number 23 off with anything less than a win.
If the tide stays on our side, that's exactly the way it will play out; you have to reach back all the way to 1999 to find Everton's last win at Anfield. Despite being in charge of the Toffee's for eleven years, David Moyes hasn't been able to make that quick walk across Stanley Park with all three points quite yet and it seems that's not a huge priority for him.
"For Everton – for the team and the supporters – it will mean an awful lot, but personally, it is not an important thing really" said the Scot when asked if he'd consider beating the Reds at Anfield a personal triumph. Though he may not want to admit that this milestone would matter to him, victory would insure he'd also complete another by being the first Everton manager since 1962 to steer his side to successive league finishes above their closest rivals. At times this season has been hard to take, but having it end like that would make it that much worse.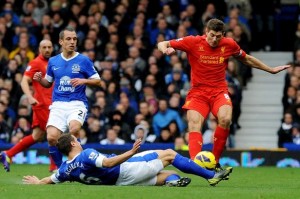 With Liverpool five points and one place behind their neighbours in the standings with only three matches left to play, Reds boss Brendan Rodgers certainly has his work cut out for him. Despite their ultimate fate being out of his hands, the Ulsterman will still be confident heading into Sunday with last week's 6-0 demolition of Newcastle United still making people smile.
If the boss was looking for a springboard to taking nine points from our last three matches, he couldn't have asked for anything better than the massacre at St. James Park. The Reds have lost just one in their last nine matches and continue to smooth out the wrinkles that have harried and hampered their season. Manchester United is the only side to have scored more goals than Liverpool this season and Manchester City the only side to have kept more clean sheets — but without a win against our neighbours on Sunday, those stats will fall on deaf ears for the foreseeable future. We all want a win for Jamie, including club captain and best friend Steven Gerrard.
When asked about Jamie, the skipper said "We're hoping to get a nice derby victory for 'Carra' to remember, because you will always remember your last derby". While it's hard to argue with Stevie's logic, after watching Carragher run out against Everton season after season, you get the impression that each one is just as memorable as the last. Ian Rush, Bruce Grobbelaar and Alan Hansen have all played in at least thirty Merseyside derbies and though Jamie has done enough to join these Reds legends in Kopite folklore, this particular achievement will be a nice way to cap off a glittering career.
Thirty derbies for Carragher and a hundred at Anfield; it's a big day for both sides tomorrow. Maybe the two Merseyside clubs are no longer top of the league or fighting for everything that glitters, and though the importance of this particular occasion may not resonate quite as loud as it did in the past, sending our blood, sweat and swears defender off with a victory over the club he supported as a boy is absolutely paramount. Let's make that happen, shall we?
–steven.
Get social with our media and find us on Facebook and Twitter. There's also a comments section; go on and have a go.