Daniel Sturridge vs. Fulham: Video and Stats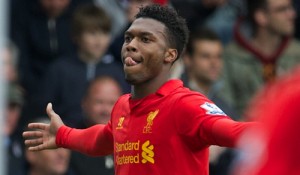 It's hard not be overly reliant on players that score 30 goals a year, but when Luis Suarez wasn't firing, Liverpool weren't scoring and things would quickly go South. Expectations were high when Daniel Sturridge came in from Chelsea in January to relieve some of weight from the Uruguayan's shoulders and he's yet to disappoint.
It's not an embellishment to say that he's been scoring since day one; his first goal for the club came only seven minutes into his debut at Mansfield Town in the third round of the FA Cup. Since then, he's bagged eleven goals in fifteen matches — including a memorable one at Old Trafford. "I think he'll prove, hopefully if he stays fit and plays games, to be one of the top strikers in the Premier League in the next few years" said Brendan Rodgers after the striker scored a hat trick yesterday at Craven Cottage, sending Fulham crashing to their fifth defeat in a row.
The Fulham backline finally get close


Yesterday, Sturridge played the full 90 minutes at Craven Cottage and took 1 shot every 12.86 minutes.We've rued our shot accuracy before, but he 5 of his 7 shots were on target and making Fulham 'keeper Mark Schwarzer work for his paycheck — though the Aussie may be coming up light the next time payday rolls around with Sturridge converting 43% of his shots for a hat-trick.

It wasn't all goals though. To be a great striker, you have to do more than put the ball in the net and he was successful in 86% of his dribbles and lost possession only 8 times — which is quite important when your manager values possession above all else. Sturridge has taken some shtick for being greedy, but when he passes the ball, he makes sure you get it.

The Englishman completed a stunning 91% of his passes yesterday and with 86% of those passes coming in the attacking half, goals were the only thing on his mind. Couple that with the fact that 81% of his passes came in the final third and you have to wonder if he ever left the opposition half. I'll go ahead and confirm that he did — each time Mark Schwarzer had to pick the ball out of his net.

Stats courtesy of EPLindex.com
Sturridge has always looked like a player who was up for it and as he capped off his hat-trick with a fantastic chip over an on-rushing Mark Schwarzer, it was plain to see why the club stumped up the cash to bring him to Merseyside.
Although he scored three, that doesn't mean he was immune to the constructive criticism of his boss. "He's not perfect. He should have squared one when he was through. But he was looking for his hat-trick, he's a goal scorer, and to be greedy you've got to be good." said Rodgers — and good he certainly was. There's a fine line between making a mistake and atoning for it and scoring three goals allows you a misstep or two.
For young players, it's all about growth and learning from your mistakes. There was a pass or two Sturridge could have made yesterday that he didn't. Maybe it would have came off and maybe he made the right decision by carrying on himself — either way, you know that Rodgers is going to address it the next time they step on the pitch at Melwood. "If he keeps improving, keeps training well, then I think he will have an outstanding couple of years for us." said the boss during his post match thoughts. If he can score eleven in fifteen, I'm looking forward to see what he can do in a full season.
–steven.