Liverpool Miss Out on Fair Play Spot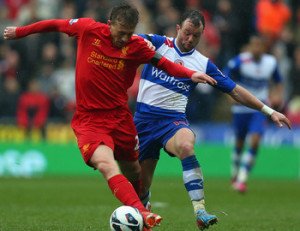 When the fax machine started squealing this morning, the News Desk was hoping it was going to be something important, but it was just confirmation that Liverpool wouldn't be playing in Europe next year.
Before you say that the Reds are in seventh place and have failed to qualify for the Europa League – or dare we dream, the Champions League — through any of the traditional means, this particular facsimile was all about the UEFA Fair Play League and the extra European berths that are granted to the countries that finish in the top three spots overall. Back in December, England was fourth overall, but with the season all but over, they've let their naughty side show and have slipped to ninth in the standings. Had the rest of the league played things a little cleaner, Brendan Rodgers men could have slipped onto the continent through this backdoor with the Reds being the highest club in the Premier League Fair Play table who haven't secured a European spot for next season.
The gaffer had expressed some quiet concerns regarding the clubs pre-season tour of Asia and the possibility of entering the Europa League in the first qualifying round, but the club won't have to worry about re-arranging anything as Sweden, Norway and Finland topped the table and have been granted the additional European slots. Now that you have confirmation that Liverpool won't be playing in Europe next year – something you probably already knew – you go on and enjoy the rest of your day. You've earned it.