Door Always Open for Carragher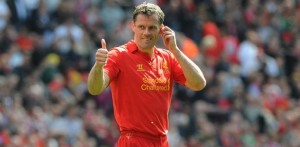 As the season winds down, word from across the pond has been quiet as of late, but with Jamie Carragher set to play his last match against Queens Park Rangers on Sunday, Liverpool Chairman Tom Werner made sure to let the Anfield Legend know that there will always be a place for him at the club.
Carragher, who'll wear the captain's armband on Sunday in place of the absent Steven Gerrard, is set to call time on a 16 year career of which he spent entirely at Liverpool; this kind of loyalty is rare in modern football and Werner was quick to acknowledge that. "It's extremely rare in any sport for someone to dedicate their whole career to one club, especially in an age where loyalty tends to be secondary to other considerations." said the American. When the Reds run out for the final time this season, it will be Carragher's 737th appearance for the club and Werner hopes it won't be last time we see him at Anfield.
Liverpool, who has been feverishly looking at potential replacements for the Scouse defender, has assured Jamie that there'll always be a place for him at the club. "We wish Jamie well in his new career and the door will always be open for him at Liverpool. I really hope we see him back at the club one day because with all that experience and knowledge we know he has so much to offer" said the FSG co-founder.