Jamie Carragher vs. QPR: Video and Stats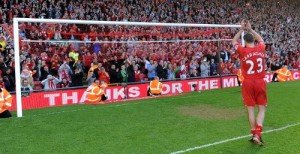 I might not be the first to admit it, but I'll man up right here and now: it's far easier to write about the so called "exciting stuff" then it is about the down and dirty — though just as important — defensive side of the game.
It might be all highlight reels and tricks to you, but there's more to football then that. Goals, assists and flashy skills are what get the words flowing which gives a certain panache to a pundit that can look beyond that. Despite being hailed as Mr. Liverpool, with only 4 goals in sixteen seasons, Jamie Carragher is hardly the kind of offensive muse a semi-lazy writer thrives on; which is why it was so surprising that a thunder bolt of a shot from the defender came within finding the back of the net and closing out Jamie's Anfield career the way it started — with a goal that few would ever forget.
Liverpool personified

The match itself was hardly high drama; with QPR more or less confirmed as the worst team in the Premier League and Liverpool having scored more goals in the second half of the season than any other side, the result was hardly in doubt. With both sides having only pride to play for, the focus was squarely on Carragher and in the 86 minutes he played, he won 100% of his tackles and 100% of his aerial duels. Surprisingly, he won only 43% of his ground duels though he was successful with the 1 clearance he had to make.

The Bootle man gave away 2 fouls and 1 very cheeky handball where he tried to spike it down past Rob Green in the visitor's box. Even though it was his last match, Carragher hardly phoned it in — especially with his passing game. The defender completed 89% of his passes with 49% of them going forward and was accurate with 86% of his long balls — or "Carra hoofs" if you're so inclined. On a normal day, you wouldn't see Jamie too far up the pitch, but Sunday was an exception to the rule and when he got forward, he kept his composure and completed 86% of his passes in the attacking half.

I always harp about possession in these pieces and Jamie did pretty damn good; with 52 touches of the ball, Jamie lost it only 2 times. He was also pivotal in winning it back, regaining the ball 2 times in his own half and another 2 times in the midfield. Though he started his Anfield career with a goal, the fates wouldn't allow him to end it with one. Surprisingly, the defender took 2 shots — 1 of them being the screamer that smacked off the post — and the other 1 being blocked before it could hit the net.

Stats courtesy of EPLindex.com
Steven Gerrard, who was unavailable for the match after having had his shoulder surgery pushed up, joked that the Bootle born defender must have stolen his boots. "We haven't seen that for 20 years, have we? It would have been a fitting point for him to finish – he scored on his debut – and what an effort" said the midfielder when asked about Carragher's attempt on goal after the match.
"He will be missed by all the supporters and everyone connected with the club and none more than myself. He's not the type to show much emotion. But deep down when he reflects on his career over the coming days. I'm sure he will be emotional" said the Captain after the lap of honor around Anfield — and he's right. At the end of last season, we couldn't picture a Liverpool side that still contained Jamie Carragher. Now, we're left with the very real reality that a Liverpool side without him just won't be as good.
–steven.
These posts wouldn't be possible without the hard work of the LFC community. Give @MostarLFC and @EPLIndex some love in the Twitterverse.