West Ham Agree £15mil Fee for Andy Carroll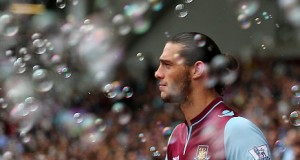 Some news just isn't surprising and you can go ahead and file this one in the obvious pile; it's been reported today that Liverpool and West Ham have agreed a fee of £15mil for striker Andy Carroll.
Earlier today, the 24-year-old pulled out of the England squad due to a heel injury; now instead of participating in this summer's friendlies, it looks like he'll be making a full-time switch from Merseyside to London. With a new style of play coming in with the appointment of Brendan Rodgers, Carroll was loaned out to West Ham on a season long deal. Despite having his season pockmarked by injuries, the former Newcastle man found the net seven times for Sam Allardyce's side, encouraging the Hammers boss to move for a permanent deal.
Allardyce has made no secret of his desire to sign the Gateshead born striker having tried to snap him up on a permanent deal last summer before the loan deal was agreed, but a question hangs over the head of Carroll and whether or he'll be ready to make the switch to London on a full time basis. With the World Cup looming next summer, the striker may want to fight for an arguably more high profile place on Merseyside and stay within Roy Hodgson's plans for the England squad's jaunt to Brazil. More on this when Andy comes to his senses…