Liverpool Plan to Hold Onto Want Away Suarez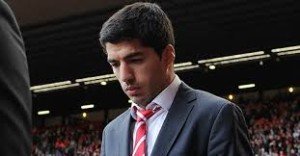 The News Desk had the early morning groggies, but with the headlines screaming of an Anfield exit for Luis Suarez – and the striker finally coming right out to say it, the tea pot still hasn't been put on.
Speculation has a been rife for a few days now and with word that Liverpool have all but wrapped up a £9mil move for Celta Vigo attacker Iago Aspas, an exit for Suarez was looking all the more likely. Real Madrid appear to be the front runners for the £40mil valued Uruguayan and after a statement from Suarez this morning confirmed that what we all hoped wasn't true, it appears he's trying to hop the next plane off Merseyside; the club, on the other hand, aren't ready to play ball – at least, not yet and certainly not in public.
With the news breaking this morning, the club was quick to react, releasing this statement as quoted from @TonyBarrettimes on Twitter: "Luis Suarez is not for sale – neither Luis nor his representatives have communicated these feelings directly to LFC. The Club remains supportive of Luis and expect him to honour his contract. We will not be making any further comment at this stage."
The striker's reasons for leaving Liverpool have been laid directly at the feet of the English press and their continual villainization of the Uruguayan. Whether the club will force the striker into fulfilling his contract – or if their strongly worded statement is just a smart negotiation tactic – remains to be seen. Earlier this week the Suarez talked about it being the right time for a "change in environment" — if he's truly looking to get away from an overly nosey, critical press, then Madrid may not be the right decision. Siberia really is nice this time of year…