Iago Aspas vs Real Madrid: Video and Stats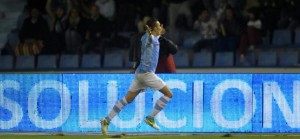 When the press started talking about Celta Vigo attacker Iago Aspas being due on Merseyside for a medical with a view to completing a summer move to Liverpool, it had a foreboding air around it.
What should have been seen as a coup on part of the club has invariably been overshadowed by Luis Suarez confirming that he'd like to leave Anfield this summer. Much like when Fernando Torres completed his move to Chelsea and Suarez arrived having expected to partner the Spaniard, Aspas will be linking up with Brendan Rodgers side with the expectation that the talented Uruguayan would be leading the charge for Champions League qualification.
Just as the departure of Torres overshadowed the arrival of Suarez, the end of the strikers turbulent time in England is sure to relegate to arrival of the highly rated Spaniard to the back pages of the paper; still there is hope that the 25 year old Moaña born striker could be writing headlines of his own in the months to come.
Video by the wonderfully talented @MrBoywunder
Aspas tangles with the Bison

When Celta Vigo goes up against Real Madrid, more often than not, the result remains the same. A victory for Los Blancos looked on the cards from the get go, but Iago Aspas would at least make a contest of it.On paper, the Spaniard played as a lone striker — though he freely interchanged with the wingers who were giving him support and you'd often see him drift out wide. Fluidity is something that Liverpool boss Brendan Rodgers looks for in a player along with retention and in Aspas's 58 touches of the ball, he turned it over only 1 time. The striker played his part in the passing game as well, attempting 37 passes and completing his 1 long ball attempt.

Against Madrid, and in a few other compilations I've watched, you get the sense that the 25 year old isn't afraid to try an audacious pass or two, though in this particular outing, he was only able to complete 73% of them. His ability to operate out wide gives him another layer to his game as well and against a rather strong backline, 5 of his 12 crosses were able to find their target.

Should Suarez leave, Aspas shouldn't be seen as a direct replacement for one of the best strikers in the world — though as he comes into his prime, he has the potential to become a force to be reckoned with given the team around him. He took 5 of his teams 19 total shots and was able to put 4 them on target. Most importantly, especially against a team such as Real Madrid, he was able to found the net to cancel out a Cristiano Ronaldo goal and pull his side level.

Stats courtesy of very the helpful WhoScored.com
Strikers are always going to be judged on their goals and Aspas's tally of twelve in the league pales in comparison to the twenty-three that Suarez was able to bag — still, circumstances need to be taken into account. The Reds were top scorers overall in the second half of the year after splashing cash on Daniel Sturridge and Philippe Coutinho and eventually finished in seventh place. Celta Vigo, on the other hand, barely avoided relegation on the final day of the La Liga schedule.
You can talk scenarios until the cows come home, but there's only one that matters right now: if you throw him in the mix with the up and coming talents Liverpool has on offer, can he improve on that tally? With the likes of Gerrard and Coutinho pulling the strings and Sturridge and Sterling in support, can he find the net with the kind of consistency the Reds are going to need to fight for a place in the top four?
Despite what the papers may have you believing, nothing is official yet. Aspas hasn't confirmed his move to Liverpool and Suarez — well, who knows what will happen with him? Still, both look like they'll be moving on and as Rodgers begins to plan for life post-Suarez, having a player with Aspas's potential at your disposal softens the blow that much more.
–steven.
Give some love to MrBoywunder on Youtube and check out Whoscored.com — it's a great resource and made this post that much easier to write.