Carroll Could Be Out by Weekend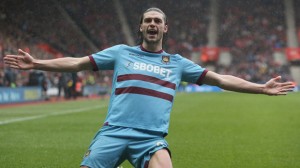 As Reds fans everywhere wait with bated breath for shreds of Luis Suarez speculation, we've got reports coming in about Liverpool's forgotten man with word that Andy Carroll is set to complete his £15mil move to West Ham by the end of the week.
Even though it's the close season, there are online bookies free bet offers ramping up with transfer madness setting in and the former Newcastle striker moving on from his turbulent time on Merseyside is looking like a better punt each and every day. West Ham boss Sam Allardyce, who penned a new two year contract with the London outfit at the beginning of May, has made no secret of his desire to make Carroll's move to London permanent and with the two clubs already agreeing on a fee, the wheels look greased to move forward with the only sticking point being the striker himself.
With one eye firmly on the World Cup in Brazil next summer, news about the move has slowed in recent days as the 24 year old held onto hope that reviving his Anfield career could wriggle him a place in England boss Roy Hodgson's plans; Liverpool, on the other hand, don't seem all too concerned with the lads hopes and dreams. With the imminent departure of Luis Suarez occupying their every waking hour, the Reds hierarchy are looking to conclude the deal – and the get their hands on the £15mil on offer – as the search for a replacement for the mercurial Uruguayan switches into full gear. That replacement, much to the chagrin of Carroll, won't be him as the January arrival of Daniel Sturridge, the return to fitness of Fabio Borini and the impending arrival of Iago Aspas from Celta Vigo leaves little room for Andy at Anfield. More on this as it inevitably develops…