Win the new Liverpool Home Shirt from Ladbrokes and Paisley Gates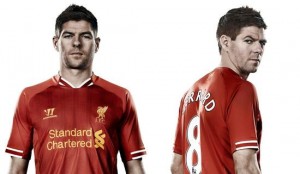 There's only a few days left to get your name in the mix to win the new Liverpool shirt from the good people at Ladbrokes and us less than respectable people at Paisley Gates. We're helping them celebrate the launch of their newest slot game SHOOT! and helping keep you in the loop with a chance to win some shiny new gear.
The new Liverpool shirt reaches back to 1984 to invoke the spirit of the Reds famous European Cup victory over AS Roma at the Stadio Olimpico and Ladbrokes newest slot game has a retro feel to it as well having been based on the iconic Shoot! Magazine. With superb graphics and an excellent soundtrack, it'll help you relive a by-gone era of the greatest game on earth while keeping you entertained at the same time — and you might be able to play it while wearing your suave new Red shirt.
Entry is as easy as can be; just leave a comment below — or in the original thread if you're so inclined — with a valid email address and we'll contact the winner on June 10th for some mailing details and sizing info. All you need to do is supply that and we'll make sure the newest incarnation of that famous red shirt finds its way to you. It's as simple as pulling the lever on the slot machine — now go on and enter. You've got a shirt to win.
Please note that while this contest is open world-wide, non-EU countries may incur customs charges which we're unable to predict or pay for before the shirt is shipped. Those charges, if applicable, will be your responsibility. For those of you concerned about privacy, no one has access to your information but us here at Paisley Gates. We're not going to give it away, sell it, or use it in some highly elaborate, nefarious scheme. We just want to get a hold of you if you win.