Sturridge Should Be Ready for New Season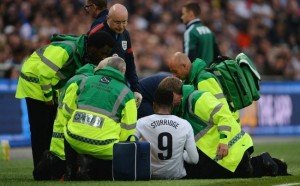 Liverpool have tried to lift the doom and gloom around Daniel Sturridge's ankle injury by saying that they're "hopeful" the striker will be fit for the start of next season.
The News Desk is hopeful of a lot of things — mostly fame and fortune with a dash of world peace — but with the club refusing to put an exact timescale on his return, we might as well wish upon a falling star. A Glen Whelan challenge left the English striker with damaged ankle ligaments as he was treated to ride off the pitch on a stretcher during the first half of England's 1-1 draw against the Republic of Ireland last week. There were fears that Sturridge, who scored 10 goals in 14 Premier League appearances for Liverpool, could be ruled out for up to four months; with both Luis Suarez and Andy Carroll looking for an Anfield exit, striking options on Merseyside could have once again been in short supply.
Talk of an imminent arrival for Celta Vigo striker Iago Aspas has cooled over the last few days and without the distraction of new arrivals muddying the waters, the focus has quickly shifted back to the players already on the payroll. As Sturridge stares down a summer of gruelling rehabilitation work, Rodgers will be planning a pre-season without the pacey striker and hoping he's ready to hit the ground running come August 17th.