Sevilla Reject Liverpool Bid for Luis Alberto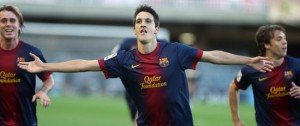 The News Desk has been working overtime since things are starting to click for Liverpool in the transfer market and there's been some furious typing going on around here as every player we're being linked to, we're actually out there trying to sign.
We've seen some real movement on a few of the promising names linked with the Reds since the season ended and next up on Let's Make a Deal is exciting Sevilla youngster Luis Alberto. Liverpool have stepped up their interest in the versatile striker after Barcelona B decided not to take up their first crack option on him and reports are coming in that an opening bid of £7mil – a decent price for a player just finding his feet — has been turned down by the Spanish club. Most cash grabs are thinly veiled, but Sevilla sporting director Ramon Verdejo has no interest in buttering this one up with any sort of niceties; they're looking for a tidy online casino jackpot and not a handful of Las Vegas quarters. Verdejo confirmed that "interest from Liverpool is real but nothing is signed" and went on to tell the clubs television channel that "the first offer the club has is very good, but we are not satisfied yet". There's hardly any room left for interpretation in that one.
In 38 appearances for Barcelona B last season, the on-loan striker found the net a respectable 11 times and turned more than one head as interest began to swell around his future. With Liverpool's move for Celta Vigo striker Iago Aspas stalled at the finish line – but still expected to go through — and a potential big money move for attacking midfielder Henrikh Mkhitaryan from Shakhtar Donetsk in the pipeline, the addition of Alberto looks more like a glance to the future rather than an immediate addition to the first team. More on this in the coming days…
If all of this transfer gossip is getting you exited for the new season, and you cannot wait to place a bet then the odds on Liverpool winning next season's Premier League are either 33 or 28/1 at most bookmakers, and they could tempt some football betting fans as a realistic outsider bet. Clearly other sides are rated much firmer favourites, but there have been significant changes at sides like United and City, leaving their fortunes a bit more uncertain in the upcoming season. Those wanting a less risky bet will probably prefer to gamble on the Reds for a top four finish – which they are clearly targeting – and you can get odds of just 2/1 on them for this. These are low odds, but Liverpool are just one of several sides who could realistically claim these places. If you would rather wait till closer to the end of the transfer window. Then why not try kill some time betting at an online casino ? With games being played 24/7 and over 400+ games including variations of live dealer table games such as european and american roulette, texas hold'em and 3 card poker along with 5 different blackjack games and hundreds of slots including the new 3D 'Game On' football games.
There seem to be more of these slots games appearing all the time, a football slot featuring animals competing against one another in matches – while a commentator inspired by the great John Motson describes the action to the sounds of cheering crowds. Many of these modern football slots feature the same kinds of inventive graphics and audio effects utilised by Game On, while the apps available for download at mobile casino sites mean that you can now play them on your phone at any time and any place – including half time at actual football matches. All this is bringing these games to more football fans than ever before, making this the ideal time to give one of them a spin.