Andy Carroll Completes West Ham Switch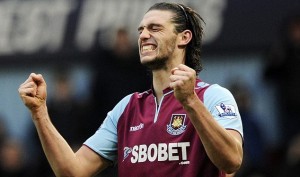 The News Desk knew it was only a matter of time, but today it's official; after completing his medical at Upton Park yesterday with "flying colors", Andy Carroll has finalized a £15mil move to West Ham United after spending the entirety of last season there on loan.
Questions were always going to hang over the future of Carroll with Brendan Rodgers replacing Kenny Dalglish in the Anfield hot-seat. The arrival of the Ulsterman ushered in a new style of play and the former Newcastle man was quickly deemed surplus to requirements. In August, he was shipped off to London on a season long loan where he found the net 7 times in 24 appearances – 1 goal better than his entire haul in a Liverpool shirt. The Gateshead born striker scored just 6 goals in 44 league appearances for the Reds and profoundly failed to live up to his exorbitant £35mil price tag – though little blame can be laid at the feet of the striker.
With the shock departure of Fernando Torres leaving Liverpool reeling, the panic buy of Carroll as transfer deadline day closed off will prove to be a harsh lesson in the realities of the market for the still wet behind the ears Liverpool ownership. West Ham boss Sam Allardyce made no secret of his desire to capatalize on the Reds overzealous spending and sign the gigantic Geordie on a permanent basis for a cut-rate fee; the six year contract – with an option for a further two – that was announced today is exactly what he wanted to see. It's believed that the fee recieved for Carroll will be made immediately available to fund further signings and although everyone here at Paisley Gates wishes Andy the best in the future, we're all excited to see what Rodgers will be able to do with the money.