Liverpool Wait on Luis Alberto Medical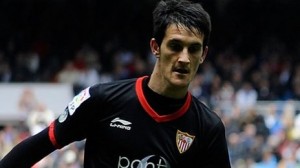 Everyone is working for the weekend; even the News Desk. While you sit and plan out exactly what to do with your two days away from the salt mine, Sevilla midfielder Luis Alberto will be spending his on Merseyside with the Spanish attacker expected to complete a medical at Melwood sometime this afternoon.
Who knows whether we'll get one of those well staged "surprise!" photographs with first team doctor Zaf Iqbal, but if the well substantiated rumors pan out, then the versatile youngster will be a Liverpool player within the next 48 hours and Sevilla will be £6mil richer than before. Well, initially anyways. The deal for Alberto is thought to also include a £1mil performance clause so if the Spaniard — who scored 11 goals and created 17 others for Barcelona B last season — lives up to the hype, then the deal is sweetened that much further; and, If he flops hard, well, Sevilla are still coming out on top aren't they?
An opening bid was thought to have been rejected by the Spanish club with sporting director Ramon Verdejo quoted earlier this week as saying "the first offer the club has is very good, but we are not satisfied yet". What exactly changed his mind remains to be seen, but If the 20 year old comes through his medical without a hitch and agrees to personal terms with the Reds, he'll join fellow countryman Iago Aspas – who we're still waiting on paperwork for — and Kolo Toure – who will officially link up with the team on July 1st — as Brendan Rodgers third signing of a transfer window that hasn't even fully opened yet. The boss said Liverpool was looking to get their deals done early this year and it looks like that's the truth; maybe he wants to enjoy his weekend as well.