Simon Mignolet Ready for a Melwood Checkup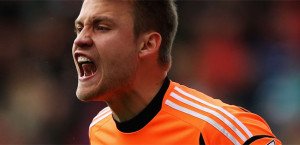 Now that Liverpool have wrapped up the signings of Spanish pair Iago Aspas and Luis Alberto, the Reds are setting their sights on getting themselves a Belgian with Sunderland 'keeper Simon Mignolet set to have a medical at Melwood ahead of a midweek move believed to be valued around £9mil.
The 24-year old shot stopper is looking like he's going to be Brendan Rodgers fourth signing of the summer and is proposed to be making a switch to the Anfield side to "provide competition" for stalwart Pepe Reina. The Spaniard has been hotly linked with a return to Barcelona after current incumbent Victor Valdes publicly announced that he will see out the last year of his contract – but not renew it. Reina, currently on international duty with La Roja, welcomed Mignolet to the squad ahead of the move being completed and was quick to acknowledge there could be competition for his spot next season. "Every team needs competition. It is more than welcome, and, if it is finally done, I welcome him and anything he needs, I'm here" said the Spanish stopper when asked about the possibility of Mignolet making the switch to Merseyside.
The Belgian 'keeper kept 11 clean sheets in 40 appearances for the Black Cats last term and was an integral figure in their fight for survival. While some Reds fans may see this move as a way to alienate Pepe – one of the squad's biggest earners – into demanding a move, Brendan Rodgers says he made his intentions clear to our current Number One during a meal a few months ago. "He was fully aware of my intention over the course of the last few months. It certainly wouldn't be a surprise to Pepe" said the Ulsterman. Whether this spells the end of Reina's time at Anfield remains to be seen, but the addition of yet another talented young player to the squad is just another indication that we're moving towards securing a squad that's going to be able to grow – and compete – as a nuclear unit. More on the Mignolet move as it comes to fruition.