Suarez Apparently Agrees to Terms with Real Madrid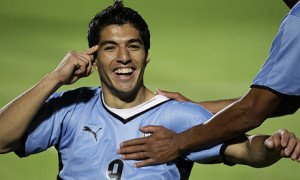 The News Desk has more or less ignored the latest Luis Suarez debacle, but a slow news day calls for slow news and with Spanish newspaper Marca reporting that the want-away Uruguayan has already agreed to terms with Real Madrid, it's just another reason for Reds fans everywhere to begin bracing for impact.
Liverpool boss Brendan Rodgers moved quickly to add strikers Iago Aspas and Luis Alberto to the side as the Spanish duo became his second and third signing of the transfer window. The speed in which both transfers were wrapped up suggest that the Reds showed a very keen interest in both players, but it's easy to speculate on other reasons as well – namely the Anfield side wanting to avoid the ceremonial price gauging of anyone that experiences a financial windfall. The Reds continue to deny that the Uruguayan is for sale though a figure of £45mil continues to be bandied about and with the striker currently on international duty, his mouth and intentions have both gone unchecked.
Suarez recently admitted that he'd love to rival new Barcelona mega-signing Neymar in La Liga and his collection of jabs and semi-rational reasoning has become too vast for the meager column inches of the News Desk, though they've begun to be drowned out by the sound of batted eye-lashes as the striker continues his love affair with Los Blancos. Incoming Real Madrid boss Carlo Ancelotti will have more than one mess to sort out after Jose Mourinho escaped to London earlier this month and this Suarez situation may be pushed to the top of the pile should the Uruguayan be forced to show his hand. It's believed that Brendan Rodgers will take nothing less than a transfer request to begin dealings with the Spanish club; and with some reports suggest that Real Madrid president Florentino Perez has done everything but agreed to how much his side will pay to close the deal we're hoping that Ian Ayre and the rest of the Liverpool hierarchy makes this process as difficult as necessary – you know, just for giggles.