Christian Eriksen vs Dynamo Dresden: Freekicks and a Lot of Chatter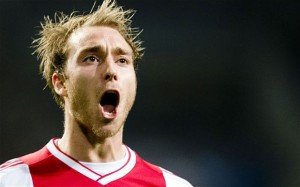 Before it was revealed that Henrikh Mkhitaryan was Liverpool's number one transfer target, the buzz was that the Reds were in deep for highly rated Danish playmaker Christian Eriksen. When talk of a move for the former Shakhtar Donetsk attacking midfielder progressed from water-cooler gossip to real world interest, it appeared that Eriksen would be passed over for the more well established Armenian.
Without the lure of Champions League football, Borussia Dortmund were able to come out of the woodwork to snap up Mkhitaryan just when he looked likely to be landing on Merseyside with Brendan Rodgers and company meeting the Ukrainian clubs £25mil asking price for the then AWOL midfielder. The Reds were quick out of the starting gate, adding four new players since the transfer window opened on the 1st of July — but none of them held the allure or prestige of Mkhitaryan and many fans feared that a marquee summer signing wouldn't be materializing at all after missing out on the 24 year-old. It didn't take long for Rodgers to stifle any talk of Liverpool being done in the transfer market and with it being widely reported yesterday that Christian Eriksen's agent rejected the advances of a Bundesliga club, rumors of a switch to Merseyside are once again gaining traction.
Videos courtesy of GoalsNL
The Dane, who caught the eye of a number of clubs with all kinds of eye catching performances in both the Eredivisie and Champions League last season, has become a bit of a hot commodity in the transfer market – though he remains committed to Ajax for the moment and is only willing to leave for a side that is bigger in every way.
"But no clubs like that have shown interest yet. I've read a lot about it, but heard nothing from the club" mused the youngster while being quizzed on his future by Dutch website Voetbal International. With former Ajax man Luis Suarez looking increasingly likely to be heading for the exit, Reds boss Brendan Rodgers will be looking to replace – at least in part — the 30 goals the Uruguayan scored for the Anfield club last season. Eriksen struck 13 times last season as de Godenzonen captured the Eredivisie trophy at a gallop, finishing 7 points above their closest chaser and with a staggering +52 goal differential.
Fellow countryman and Reds stalwart Daniel Agger has called on the talented midfielder to join him on Merseyside and if the links in the media have any truth to them, we could be seeing him at Melwood by the time September rolls around. If a move on Liverpool's part actually is imminent, then Eriksen's agent reportedly turning down Bayern Leverkusen will encourage the bid almost as much as Ajax manager Frank De Boer's recent comments welcomed interest in his midfield maestro.
"It is up to Christian what he wants," said De Boer who continued "If he feels good going to Liverpool, then it is up to him." A lack of Champions League, or any European football, could prove once again to be a stumbling block as the Reds move for the £15mil rated Dane who will try to fulfill his "sporting ambitions" should he decide to leave Holland – something he may find hard to do in his first season on Merseyside. Although a move to Liverpool may mean those ambitions will need to be put on hold for the time being, Eriksen would be able to take heart in the kind of team Rodgers is trying to build and understand that his ambition matches ours. At only 21 years-old, he could be winning trophies in that famous Red shirt for years to come.
-steven.
Big thanks goes out to GoalsNL for the videos — they're available all across the social stratosphere. Give them some internet love.