Pepe Reina Aggrieved to Leave on Loan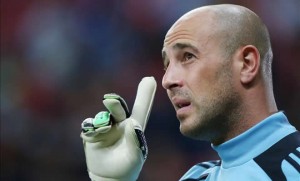 It's been a little while coming before it was first revealed that Pepe Reina would be leaving on a season long loan, but the News Desk can now confirm that the club has ratified the deal earlier this morning and that the Spanish 'keeper is feeling a bit hard done by.
In the early days of the transfer window it looked like Reina, who joined Liverpool in the summer of 2005 as part of Rafa Benitez's "Spanish Armada", would be Barcelona bound after rumors linking the shot stopper to a return to club where he began his career started to pop up. When the transfer failed to materialize and he stopped angling for a move in the press, it looked like Reina would be staying on Merseyside with Reds boss Brendan Rodgers heralding the arrival of former Sunderland 'keeper Simon Mignolet as "competition" for the starting spot between the sticks. Obviously, this wasn't the case.
In an open letter to Liverpool fans, the Spaniard revealed that he asked the club for a contract extension if his rumored return to the Nou Camp failed to bear fruit and that he was not informed of the loan move until after it was agreed. "I thought I deserved better than that, even though I understand that difficult decisions have to be taken in football" said Reina as his eight year spell in the Anfield net closed out amid speculation that the club forced him out. It wasn't all hand grenades and veiled swipes though as Pepe, who made 394 appearances for the club, reflected on playing for "the most wonderful English club" ahead of linking up with former manager Rafa Benitez in Napoli for the season.
Everyone here at Paisley Gates wishes Pepe Reina and his family all the best in the future.