Luis Suarez: Merseyside's Bottom Feeder?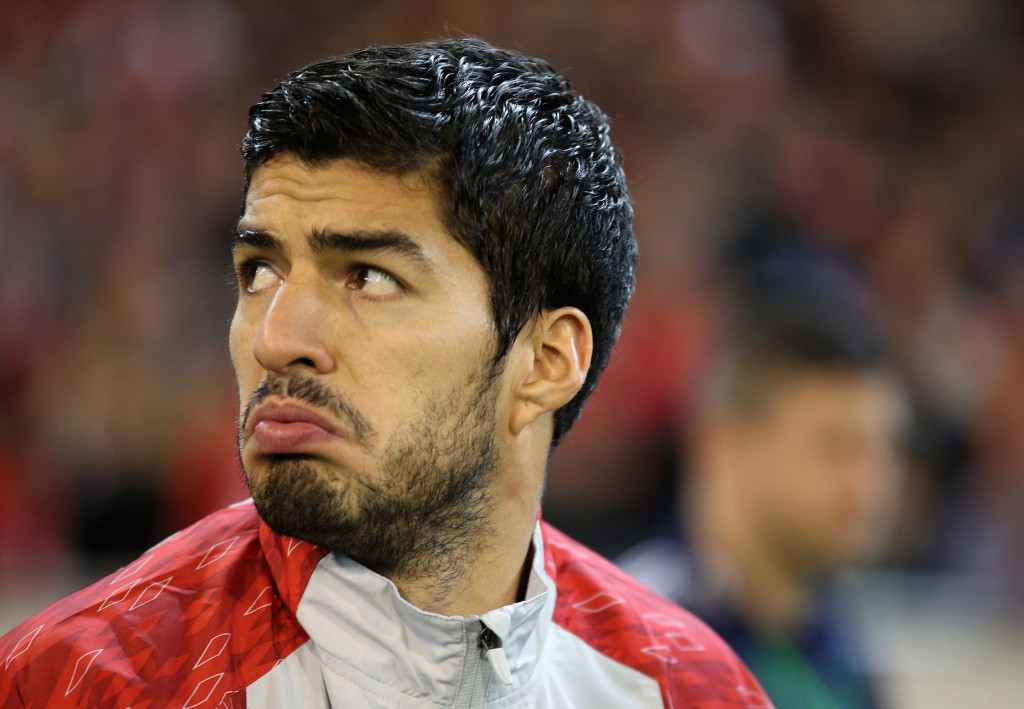 Luis Suarez was Liverpool's saviour of last season, scoring 23 league goals, assisting 5 and, in some situations, potentially saving Liverpool from embarrassment. However, Suarez, who has requested to leave Anfield, has never been far from causing a fair share of embarrassment himself, as a series of brainless acts from the super Uruguayan put the historic club in the shadows at times. From racial abuse to middle fingers to hand-balls, ol' Luis has done it all.
It all spurred on from Manchester United's Patrice Evra racial abuse incident in 2011 where he was fined £40,000 and banned for eight games with most of the country disgusted with Suarez and wanting his head on a stick. Through this, Liverpool, the club and the fans, stuck by him and supported him in ways no other club would. Former Liverpool boss Kenny Dalglish's idea to wear t-shirts supporting the Uruguayan the game after he was got charged wasn't the best way to address such a serious allegation, but boy was it a nice gesture. The constant singing and chanting of the famous Luis Suarez song from the Kop also showed that Liverpool was a unique club and that the fans would support the players through thick and thin — as long as they were proud to wear the Liverpool badge on their chest.
Suarez then refused to shake Evra's hand the next time the two clubs met, causing outrage and putting Liverpool Football Club's name in the dirt once again. Unfortunately, the Evra incident wasn't the end of Suarez's mad reign; it was only the start of it. The controversial striker would keep the ball rolling by kicking Michael Dawson, pulling Rafael's hair, putting his middle finger up after getting a bad reception from Fulham fans, blatant dives versus Arsenal and Stoke, a subsequent admission of diving in the press, taunting then Everton boss David Moyes after scoring, punching a Chilean player while on international duty and finally, and most famously, biting Branislav Ivanovic . At the end of it, he'd receive a ten game ban and once again put the club to shame.
While at a press conference when at the Confederations cup with Uruguay, Suarez would then take a stab at those who adamantly supported him by admitting that he wanted to leave Anfield to start fresh abroad, citing the English media as the main reason. The striker believes that they didn't treat him well and 'they went too far'. However, after numerous inquiries from North London club Arsenal that included a cheeky £40 million +£1 bid, Suarez decided that he wanted to be playing Champions League football and the Emirates stadium is where he supposedly wanted to play it. Going one step further, he then told the Guardian newspaper that he is preparing to take the case to the Premier League to help him to leave the club and that Brendan Rodgers promised he could leave if Liverpool didn't qualify for the Champions League. Now the flying South American wants Liverpool to honour that promise, just like when Suarez promised Dalglish that he would shake Evra's hand…oh wait.
I, for one, believe that if a player is unhappy at a club then they should be sold as quickly as possible, but, a player like Luis Suarez is born once in a lifetime. Never have I seen a player bite an opponent out of frustration to losing the ball; the hunger he has for winning is phenomenal and he's a fighter to the core. The magic he brings when he steps out at Anfield is unique and I doubt there will be another Luis Suarez at Liverpool for a long time.
However, with all the things Suarez has done and all the things Liverpool have done for him would leaving be the best option? For me, leaving would be cowardly; running away from your problems doesn't help you in life and I feel he has shown a lack of respect for the club in recent times and moving to a top four rival would only be the icing on the cake. Fernando Torres was definitely a hated figure in Liverpool for a long period after moving to Chelsea, however, I don't recall Torres treating the club like dirt and running away. If I were Suarez, I would definitely be more worried about catching 'leaving Liverpool syndrome' which seems to be caught by most strikers who have left the club, rather than trying to force a move.
I believe Suarez should face the music and show some loyalty to Liverpool and the fans who have stuck by him through thick and thin; the very least he could do to repay that support and commitment would be to stay and fight like the warrior he is. It would be the right thing to do, it would be the Suarez thing to do and it would be the Liverpool thing to do. The Kop doesn't sing his praises every week for nothing, they chant it because they've found a player that they love, who they worship, who can bring those magical European nights at Anfield back. I believe 'No player is bigger than the team' but if I asked you to name a realistic replacement for Suarez who can get you 30 goal a season I'm sure you'd be silent. This man can bring back Champions league football to Anfield but without him, it's only but a mere dream.
–Kvarne
Please welcome our new blogger Kvarne to the fold and give them a follow on Twitter. Bio and other fun stuff coming soon.