Suarez Wants to Play in Europe; Rodgers Says No, No, No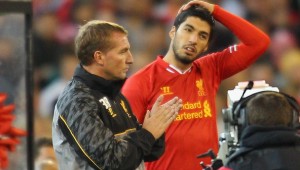 The News Desk had a feeling that Luis Suarez was about to get nasty in his quest to leave Liverpool and last night he took the next step – threatening to take his case to the Premier League — in an interview with the press that he just hates so darn much.
Speculation was rife that the Uruguayan, who missed Liverpool's trip to Norway with a foot injury, would consider taking the legal route to force a move away from Merseyside and when he confirmed it, he did so in a very methodical, calculated manner. Speaking The Guardian newspaper, Suarez played the victim; "Last year I had the opportunity to move to a big European club and I stayed on the understanding that if we failed to qualify for the Champions League the following season I'd be allowed to go" said the striker, who continued, ""They gave me their word a year ago and now I want them to honour that".
Mere hours before Suarez got cozy with his sworn enemy, Brendan Rodgers re-iterated the clubs desire to hang onto Suarez – for the millionth time – and when asked about Arsenal's bid of £40mil + £1, the Northern Irishman was again dismissive, calling it "nowhere near the valuation of what he is worth in this market". Still, the striker believes he's in the right and is prepared to keep pushing for a move. "I have the club's word and we have the written contract and we are happy to take this to the Premier League for them to decide the case but I do not want it to come to that" said Suarez. Though his words are unlikely to change the clubs position, they do confirm that August is going to be an interesting, as well as trying, month.