Liverpool Segregate Suarez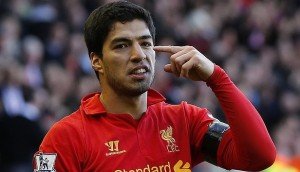 The News Desk was hoping for some good cheer to come down the wire this morning, but all we got are some vague rumours about a bid for Guilherme Siqueira, another attempt from Bolton to sign Jay Spearing, some less than funny jokes and confirmation that Luis Suarez will be training all by his lonesome.
After turning to the press to try to push through a move to Arsenal, the Uruguayan is being ostracised by the club in an attempt to get him back on the right track with Brendan Rodgers calling the strikers actions a "total disrespect of the club". While Gunners boss Arsene Wenger remains "on standby" to snatch up his number one – and seemingly only – transfer target, Professional Footballers' Association chief executive Gordon Taylor took some time out of his busy day to review the phantom contract clause that both Suarez and Arsenal think will be their saving grace. Suffice it to say that they're both going to be bitterly disappointed.
"If there is a minimum offer of £40mil then the parties will discuss things but it does not say the club has to sell," said Taylor who also called on both parties to talk things out. "I just feel, like in any other transfer, it is better for both parties to get around the table to try to resolve it." In the meantime and in between time, Luis won't have any company at training after Rodgers confirmed that he won't be going through the paces with the first team any time soon. "Obviously the remarks I've read are bitterly disappointing – but my job is bigger than that" said the Northern Irishman after the Reds trounced Norwegian side Valerenga yesterday in their penultimate friendly match. There's been no word yet whether Suarez will be able to bring a friend to keep him company; we'll get back to you on that.