Suarez to Give Up Fight as Reds Eye Willian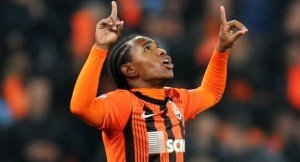 After principal Liverpool owner John W. Henry got tired of want-away striker Luis Suarez's childish behaviour and put his billion dollar foot down, it's no surprise that reports coming out of Uruguay this morning have the Liverpool forward conceding defeat in his attempts to engineer a move away from Anfield.
While the South American may have finally realized that he'll be staying on Merseyside – mostly because he doesn't have a choice in the matter – Reds fans everywhere are bracing for a serious charm offensive from both the club and the striker as everyone tries to get back in the Kop's good graces. There's no better way to distract from a less than savoury situation during the summer than to have the club linked with a big name and the News Desk has reports coming in about a bid for £30mil rated Brazilian playmaker Willian that is sure to give anyone about to rant about Suarez in the comments section something positive to talk about instead.
Rumour has it that Anzhi Makhachkala has put the midfield maestro – along with the rest of a star studded squad – up for sale as financial problems loom for the big spending Russians and as the Reds look for a marquee signing to cap off their summer, Willian looks to be the perfect player to fill that slot. After being stifled in their attempts to sign attacking pair Henrikh Mkhitaryan and Diego Costa with big money moves, Liverpool have confirmed that they're ready to shell out for a player that's going to suit their style. Willian, who is more a creator than a finisher, could very well be the one to fulfil this role. More on this as proceedings progress…