Play Fantasy Footie with Maximuscle and Win!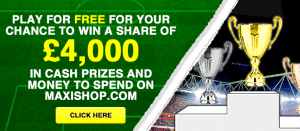 We all like to fancy ourselves a bit of a genius when it comes to the football and Maximuscle is giving you a chance to prove that to all your mates with their inaugural Fantasy Football League. Bragging rights might be enough to get you going, but to the victor goes the spoils and they're keeping things interesting with a load of great prizes to win, as well as celebrity participants to test your skill against.
It's about time you experienced one of those selection headaches the manager is always banging on about and put your football knowledge to the test with £135mil to put together your perfect side. You've got 11 starters and 4 substitutes at your disposal – make sure you're picking the right players week in and week out and you could find your wallet getting thicker as you decimate the competition. Maximuscle is giving you and your fantasy team a shot at a share in £4,000 worth of cash and prizes:
First Place: £2,500 cash plus a £500 bundle of Maximuscle products
Second Place: £1,000 cash plus a £250 bundle of Maximuscle products
Third Place: £500 cash plus a £100 bundle of Maximuscle products
Showing your friends whose boss while making some money is always fun, but pitting your team against the likes of former England international Rodney Marsh gives the competition that extra edge. Rodney isn't the only one you've got a shot at taking down though, with boxer Amir Khan and Rugby Union players George North and Chris Robshaw also out for fantasy football supremacy. If that's not quite enough, you've also got a Paisley Gates team to take a crack at – though you'd probably have a better shot at taking Rodney out.
You've only got until August 19th to sign up and get your team assembled, so drop what you're doing and get on it. We need more players to beat!