Liverpool Do the Double with August Awards for Sturridge and Rodgers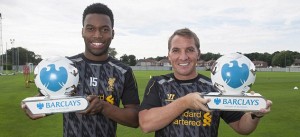 With the international break done and dusted and a return to proper football just over the horizon, the News Desk received a nice picture of Brendan Rodgers and Daniel Sturridge holding up some trophies this morning after it was announced that the pair had won player and manager of the month respectively.
The Reds, who face a tough trip to the Liberty Stadium on Monday, are top of the Premier League after dispatching Stoke, Aston Villa and Manchester United in their opening three fixtures to record their best start to a season since 1994/1995. Rodgers, who helped guide Liverpool to 7th place last season, picks up the manager of the month trophy for the second time after winning it with his previous club Swansea for January 2012 after the Swans recorded seven points in four – including a 1-1 draw with a Chelsea side that oddly enough included fellow silverware winner Daniel Sturridge.
The English striker, who remains a doubt for Monday's match after withdrawing from international duty with an aggravated thigh strain, scored the only goals of the Reds opening three fixtures as he spearheaded Liverpool's attack in the absence of the still suspended Luis Suarez. Sturridge, who picks up this honour for the first, and undoubtedly not the last, time is currently engaged in a Mexican Standoff with Arsenal's Olivier Giroud and Aston Villa's Christian Benteke as the three strikers stake an early claim on the Premier League's Golden Boot Award.
While most Liverpool fans continue to temper their expectations despite the teams flying start to the season, taking maximum points in the league and progressing with a dramatic extra time winner in the League Cup has given us something to smile about – something that stands in stark contrast to the start of Brendan Rodgers reign in the Reds hot-seat. One year and a little patience certainly can make a difference, can't it?