England Medical Experts Ruled Daniel Sturridge Out of Qualifiers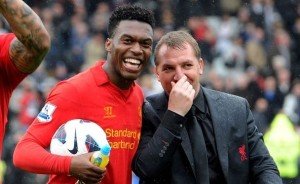 The News Desk is getting tired of talking about Daniel Sturridge; if it's not the injury to the England forward that has Liverpool supporters sweating, it's the accusations that he abandoned his country during their recent World Cup qualifiers that has Reds fans hot under the collar.
Brendan Rodgers, speaking ahead of his sides clash with Swansea at the Liberty Stadium, has been inundated with questions regarding the fitness of the Premier League Player of the Month and whether him playing on Monday reflects badly after missing out for England. The Northern Irishman, who is probably as sick of hearing about it as the rest of us, said "Unfortunately he left the Manchester United game injured and the medical staff at England deemed him not quite fit enough for the first game." Sturridge, who spoke with Liverpool's official site during his lay-off, received some criticism when he was quoted as saying that he was "more worried about Liverpool" — words that were twisted out of context.
While some saw this as an deliberate snub to the national side in order to focus on the Reds, Brendan Rodgers clarified that missing England duty wasn't really his decision to make. "The medical experts made the decision, not Daniel Sturridge" said Rodgers, who continued "there was a slight improvement but Roy Hodgson and his staff have to make a decision if he's going to be available for the second game and at that stage he wasn't."
There has been criticism leveled at both the club and the player with reports that he should be back and in the starting line-up for Liverpool on Monday — something Rodgers thinks shouldn't be held against the striker. With the match switched from the weekend, the Liverpool boss confirmed that "if it was a Saturday game he may well have struggled" and that there's no way that he'll be "100% fit." This certainly isn't the first time a club and country row has been brought up and it certainly won't be the last — still, we haven't heard too much about Wayne Rooney missing out with a gash to the face even though he was ready for Manchester United's clash with Crystal Palace today.
Funny how that works.