Suarez Return Will Be "Seamless" and Aspas Goal Will Be "Explosive"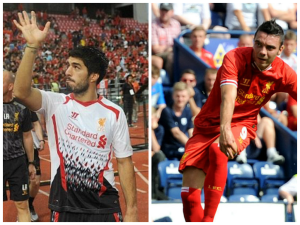 After Southampton visit Anfield this weekend, Luis Suarez will be available again. The striker – who is currently serving the final game of a 10 match ban for biting Chelsea defender Branislav Ivanovic – has been widely tipped to make his return in next Wednesday's trip to Old Trafford in the Captial One Cup. Though there may be some concerns regarding his integration back into the squad, Reds boss Brendan Rodgers has assured us it'll be like having the Luis of old back again.
Liverpool have been looking at ways to keep the striker on the up and up with a training regime to match the rigours of a real game and closed doors friendlies to give the striker that all important team experience. The Uruguayan put in a 90-minute shift in one such fixture against Championship side Burnley FC at Melwood on Tuesday – though the less said about the result the better.
Besides the extensive training schedule, the boss also points to his involvement in the recent World Cup qualifiers as a positive for Suarez. "The idea is that hopefully when he steps back in it will be seamless. Of course there will be a transitional period for him but I am really looking forward to having him back" said the boss. The return of Suarez could help offset the creative drain the loss of Philippe Coutinho could have on the side with the pass-master out until late October as he undergoes surgery to stabilize the AC joint in his shoulder.
We saw last season, thankfully for only a brief period, that playing the Uruguayan as an attacking midfielder is a grave mistake, and though we don't expect Rodgers to try that one on again, we are expecting that the tricky attacker will get the sides creative juices flowing in the absence of Coutinho – and maybe help Iago Aspas find the back of the net. The Spanish forward has been met with mixed reviews over the Reds first four league fixtures and despite racking up an impressive four goals in pre-season, the former Celta Vigo man has yet to see neither hide nor hare of his first Premier League goal.
It was always expected that Aspas would need time to bed into both the Liverpool set-up and the English game as a whole, but the Spanish striker already knows that his first real goal in a Red shirt will be one to remember. "I think it will be a really explosive reaction" Aspas told the official website. "I'm working hard every day to try and improve and be able show that on the pitch to my teammates." The News Desk likes a good adjective now and again – hopefully, after the explosion, we'll be able to use words like "prolific" and "vital" the next time we speak of him.