Rodgers Looking Forward to Suarez Return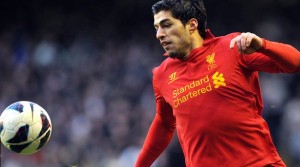 After Liverpool principal owner John W. Henry drew a line in the sand by unequivocally confirming that Luis Suarez wouldn't be sold, Reds boss Brendan Rodgers took a hard-line with the press when it came to the Uuruguayan.
"What I want to concentrate on is the players that are available for this weekend so I won't be speaking any more about Luis Suárez until he is available" said the Gaffer. Well, after yesterdays less than acceptable defeat at the hands of Southampton, Suarez has officially completed his 10-match ban for biting Chelsea defender Branislav Ivanovic and is available for selection. In yesterdays post-match interview, Rodgers talked about how "great" it would be to have him back.
With Philippe Coutinho sidelined until the end of October and only Daniel Sturridge able to find the net for the Reds, another goal threat — and someone who can take a game by the scruff of the neck — is exactly what Brendan ordered.
Liverpool mustered just five shots on target yesterday as an organized and energetic Southampton side kept them at an arms reach. "Sometimes in these games it's players like him [Suarez], who can make the difference" said the boss. "It's going to be great to have him back." The striker, who hasn't played for Liverpool since the end of April, is expected to be thrown back in at the deep end when Liverpool travel to Old Trafford on Wednesday for a meeting with Manchester United in the Capital One Cup.
Earlier in the week Rodgers revealed that Suarez has been on a special training regime that focused on recreating the rigours of a real match and that he's participated in a number of friendlies behind closed doors — still, the boss remains realistic about his fitness. "He's obviously not going to be 100 per cent, when you come into these sorts of cup games and these games that are at a greater intensity" said Rodgers, who continued, "He just needs to get games to bring him right up to full speed."
After yesterday's debacle, games is exactly what the Uruguayan striker can expect. The News Desk can't be 100% sure, but we do get the feeling that any ill-will that may still be lingering in the Liverpool support will instantly evaporate if he finds the net at Old Trafford on Wednesday. Call it a hunch…