Liverpool (0) Manchester United (1): Everyone Drinks for Free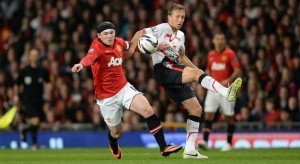 That result is hard to swallow; while the loss to Southampton at the weekend was the result of an insipid, uninspired performance, Liverpool turned the screw for long periods at Old Trafford last night and it would be hard to argue that the result was wholly deserved.
But, what you deserve and what you get can be two drastically different things and even their best outing since downing the Red Devils at the beginning of the month wouldn't see them through to the next round of the League Cup as a Javier Hernandez volley mere seconds after the second half kicked off sent Brendan Rodgers's men crashing out of the Cup. While it would have been a fairytale for Luis Suarez — evidently rusty after playing his last competitive match for Liverpool last April — to lead the Reds to victory, it would be United that would move towards banishing the ghosts of the 4-1 thrashing laid out at the hands of Manchester City at the weekend by sending their most hated rivals crashing out of the Cup.
By the time the second half kicked off, it was evident that we could be looking at a rout at either end of the pitch. Shinji Kagawa and Nani played creators for United while a fluid front three of Luis Suarez, Daniel Sturridge and Victor Moses looked threatening on almost every foray forward. Wayne Rooney — wearing the captains armband for the Red Devils — would have a decent crack on goal less than five minutes into the match and Chicarito would trouble Liverpool's new look back line populated by three central defenders as the Reds looked to find a foothold at Old Trafford. Although it took them awhile to settle, when they did, it was evident that this was working.
It started with quick attacks before it turned into sustained pressure. Jordan Henderson, playing along with Jose Enrique as wingbacks, would send in a millimetre perfect ball for Suarez as he attacked the United box, but he'd be just off the pace and the opportunity would go begging — a recurring theme throughout the night. Gerrard, Henderson and Sturridge would orchestrate another beautiful move, but Suarez would again be just a whisker off before his first touch let him down from a cross field Jose Enrique pass that eluded Jonny Evans and landed on the Uruguayan's toe. Training regimes and closed door friendlies can't make up for a lack of real matches and there was no better indicator of that then what we saw tonight; chances he would have buried, passes he could have made and runs that would have penetrated either weren't there or were just slightly off color.
It's hard to fault a player that's missed ten games for being rusty, but we'd be left to rue his missed chances early in the second half. If United were going to score, you got the feeling it would be from a set piece and that's exactly how it played out. Just like against Southampton on the weekend, it was senseless defending from a corner that would do us in and as Wayne Rooney whipped one in, Chicarito would elude everyone to tuck it away at the near post. Gerrard would move to cover space that was already occupied and miss the ball altogether, Enrique would have no discernible thought process and we'd be left smarting once again.
While the circumstances were similar to the loss against the Saints, the response was not. Sturridge threatened immediately, Henderson would come within inches of rolling the ball past David De Gea, Suarez would blast a shot just agonizingly off target right before we got confirmation that this wasn't our day when the Spanish 'keeper somehow batted away a picture perfect diving header from Victor Moses. Both Kagawa and Suarez would hit the bar at either end of the pitch as the minutes ticked down, but it would be David Moyes's men that would hold out for the victory — thankfully though, they didn't beat the team that so impotently rolled over for Southampton on Saturday.
It's never OK to lose to United — that is to say that it will never just be easily shrugged off. It's going to take alcohol to get rid of this one, but not as much you you might think. last night we saw a different squad altogether; it might of been made up of the same players, but they looked like a team with purpose and drive rather than a rudderless nightmare. Where we couldn't string together three passes against the Saints, there were now long strands of assured build-up play and the bite was back in an attack that was looking toothless. If we play like this on Sunday, I might end up feeling a twinge of pity for Sunderland.
I probably won't, but I might.
–Steven
What says you? A better performance, sure, but crashing out of the Cup means we've got one less shot at winning some silverware and — in the process — qualifying for Europe. Let us know what you think in the comments; you can also find us on Facebook and Twitter. I'm sure you know that already though…