Rodgers Wish List: Top Six by Christmas and Sterling Focus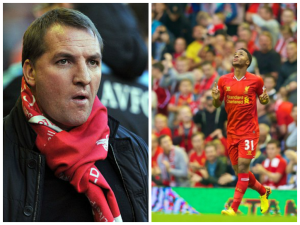 Despite a strong start to their Premier League campaign, Liverpool boss Brendan Rodgers is keeping his Christmas wish list modest this year with the Northern Irishman targeting a spot in the top six before the snow flies.
Going into the international break, the Reds found themselves on the top of the heap and in unfamiliar territory after taking full points from their opening three fixtures. A 2-2 draw with Swansea City and a shock 1-0 loss to Southampton last weekend has certainly tempered any dreams of grandeur, but Rodgers thinks that a spot in the top six will give his side an adequate jumping off point going into the New Year. "We have to make sure we stay up in that top six in the league and keep fighting and hopefully we can reinforce in January" said the boss ahead of Liverpool's visit to the Stadium Light this weekend.
After the Reds fell to a 1-0 defeat at the hands of Manchester United in the Capital One Cup on Wednesday, Liverpool have no extra matches to play until they enter the FA Cup in the New Year – something Rodgers thinks can be used to their advantage. "Now we can only concentrate on the league up until Christmas," he said before reinforcing that his side will be looking to take full points against managerless Sunderland on Sunday. "We have got a big game now on Sunday, where we want three points. We want to end up with the result."
Following the loss to Southampton, Rodgers called the performance "flat and subdued" and put it down to "the players we had available"; whether that was a pot-shot at some of the underperforming members of the squad or not wasn't expanded upon, but one player did get some special attention – Raheem Sterling. The 18-year old, who recently had assault charges against him dismissed, has only made sporadic appearances for the Reds this season after impressing in the first team this time last year and the boss believes that the sooner he "stabilizes his life" and "recognizes the remarkable opportunity he has" the better.
"Once he does that and he is clear in his mind, he has no distraction and we can get to the level of performance of the first four or five months of last year" said the Liverpool manager, who continued "He is a good boy and had lots going on last year when he was put in the spotlight and he did well but now it's about him focusing on his football." Surely Raheem realizes that he can't play football – or collect a healthy pay-packet – if he looking out from behind bars?