Mixed Bag of Injury News for Daniel Agger, Joe Allen and Daniel Sturridge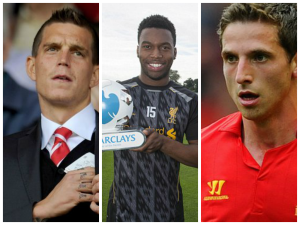 The News Desk has been wondering what happened to Welsh midfielder Joe Allen following the Reds calamitous match with Notts County a few weeks back; the former Swansea City ace was substituted with a suspected pulled hamstring and we haven't heard from him since. Ahead of Liverpool's trip to Sunderland this weekend, Anfield boss Brendan Rodgers clarified his continued absence – well, somewhat anyway.
"We will see on Saturday if [Daniel Agger is] going to be available for selection but Joe Allen won't be available in the near future," said the boss, who continued "We felt leading up to the Swansea game that Joe's hamstring was getting better, but he still has a bit of time to go on that. He's obviously working hard with the medical team but he's not fit yet." The form of Jordan Henderson was likely to keep the Welshman, who has had a tough time adjusting to life at Anfield, on the bench for the time being, but with a number of injuries causing havoc in the squad, the more players that are fit the better.
Rodgers also confirmed that he'll be using "more or less the same squad" for the trip to Sunderland on Sunday, though he hopes that Daniel Agger – who missed Wednesday's defeat to Manchester United in the League Cup – will " come back into the reckoning" after spending the last few days training without incident. The fitness of the Danish defender has been spotty over the last couple of weeks after an accident in the gym left him with a side strain.
While the boss isn't entirely sure whether Agger will be available, one thing he was quick to confirm was that Daniel Sturridge, who has been battling his own injury problems since the summer, would continue to play a part even though Luis Suarez is back. The England man has yet to find full fitness for the Reds despite scoring in their opening three fixtures, but Rodgers insists he still has an important role to play in the starting eleven. "There's no taking him out. With Daniel, we've seen this season that even when he's not 100 per cent fit he's still an amazing player" said the boss. It's hard to argue with that logic, but will he really be needed against a manger-less side that's currently occupying the basement of the league?