Suarez and Sturridge Two of the Best, Water Still Wet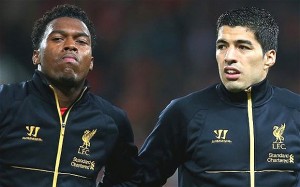 Some days the News Desk has no choice but to deal in the obvious and with Brendan Rodgers praising star strikers Luis Suarez and Daniel Sturridge, he's telling a lot of us what we knew already: the pair of them are going to set this league on fire.
Sturridge – who former Manchester United boss Sir Alex Ferguson comically called a "gamble" when the Reds paid £12mil to secure his services last January – opened the scoring at the Stadium of Light before going on to provide a pair of assists for Luis Suarez on either side of the half. Since his move from Chelsea, the England man has found the net 18 times and provided 7 assists in a paltry 24 matches; for you mathemagicians out there, that's greater than a goal or assist for every match he's played. Obviously, this pleases Brendan Rodgers very, very much.

"Those two are right up there with the best in the country and you saw that against Sunderland" said the Northern Irishman following the Reds 3-1 win on Wearside."They are two different types as well, which makes it hard for defenders because one has pace, power and two good feet, and the other is a wriggler and can shift his body very quickly and ends up in the box."
Suarez – who made his first Premier League appearance after serving out a 10-match ban for biting Chelsea defender Branislav Ivanovic – shook off the rust we saw midweek against Manchester United and looked like he'd never stopped playing beside Sturridge. "Those two will only get better. You can see their understanding. We have done a lot of work with them together in training and they looked very, very bright" said Rodgers. Liverpool, who sit two points off league leaders Arsenal, host newcomers Crystal Palace next Saturday at Anfield before another round of World Cup qualifiers interrupts the season.