Steven Gerrard Asks Santa for Liverpool to Keep Their Momentum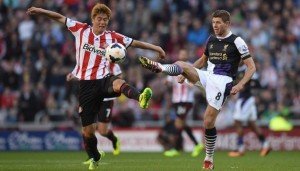 The News Desk checked the calendar and we're still quite a ways off from Christmas time, but the way the Liverpool hierarchy keeps talking about it, you'd think there were only 85 shopping days left until the man in red comes down the chimney.
Last week Liverpool boss Brendan Rodgers called for his side to stay in the top six going into the winter transfer window, and now Reds captain Steven Gerrard has the festive fixture list on his mind as well. "The main thing for us is to keep fighting and show that we are capable of staying in these positions to around Christmas time and then we will see where that takes us. The only way we will do that is by winning games" said the Skipper.
Liverpool sit two points off league leaders Arsenal after 6 matches and though the Reds supporters have been quick to temper their expectations there's been a buzz growing as the Merseysiders continue to rack up the points. "It's very important that we get ourselves into a good position because there is nothing worse than going into the New Year having left yourself too much to do" said Gerrard. The local boy has come in for a touch of criticism after a handful of lethargic displays put him center stage; something he moved to correct in the Reds 3-1 win at the Stadium of Light on Sunday.
With Liverpool firing on all cylinders and points being dropped all over the place, the Captain knows his team can take advantage. "I'm not too bothered about what people are saying about us. I know what this team is capable of" mused Gerrard. With Luis Suarez back and Daniel Sturridge in unstoppable form, we just might find a Champions League challenge under the tree this year — sure beats socks.