Daniel Sturridge & Luis Suarez vs Sunderland: Video and Stats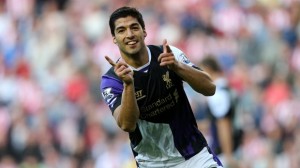 As far as strike partnerships go, the one between Luis Suarez and Daniel Sturridge is still in its infancy. It can take years for two players to develop the kind of understanding that makes a truly great duo; we saw glimpses of that last season after Sturridge made a £12mil switch from Chelsea in January, but a lengthy ban to Suarez only a few months later put the brakes on what looked to be a promising start.
When the Uruguayan returned to Premier League action on Sunday, it almost looked like he was never gone. Sturridge opened the scoring, as we've become accustomed to, with his fifth league goal of the season before the man from Salto scored a brace – with the England man providing the crucial pass both times. "The understanding between them is really good and it will only get better" said Lucas following the Reds victory at the Stadium of Light. "It will improve over the course of the season and hopefully they will keep helping us with goals and assists."
Video by @MostarLFC
The man can't be stopped

As far as results go, Brendan Rodgers couldn't have asked for much more in his side's 3-1 win at Sunderland on Sunday. Luis Suarez, making his first Premier League appearance since April, found the net with 2 out of his 5 shots and Daniel Sturridge, who we all know is a beast in front of net, registered only 1 shot on net in his 90 minutes on the pitch – but it was on target and more than enough to beat Black Cats 'keeper KeirenWestwood.

While Sturridge tended to drift out to the right flank – spending 10.71% of the match out there – he stayed primarily in the middle of the park between the center circle and the attacking third with 26.79% of his time clocked up there. Suarez, in contrast, was everywhere; 26.8% of his time in the middle of the park, 13.4% on the right flank and 9.28% on the left as he, Victor Moses and Sturridge fluidly interchanged positions.

We didn't look as sharp in our possession game as we could have against either Manchester United or Southampton, but the Reds seemed to get that back on track against Sunderland. In his first match back, Suarez put up an 80% pass completion rate, which included 5 successful long balls, but could only complete 2 out of his 7 dribble attempts. Sturridge was successful with 25 out of his 33 attempted passes – including 2 assists – but didn't fare much better with his dribbling, completing only 2 of his 6 attempts.

Neither striker did all that well in the air with the Englishman losing out on both of his aerial duels and the South American only able to win 1 out of 4. While Sturridge was able to post a pretty decent 44% win rate in his duels, Suarez could only muster a measly 31% despite winning 50% of his attempted tackles. They're strikers though – what did you expect?
Video by @MostarLFC
Liverpool boss Brendan Rodgers had nothing but praise for the pair after a 3-1 win against Sunderland pushed his side into second place in the league table. "Him and Daniel up front are a real, real handful. They combined very well" said the Northern Irishman. With the Reds holding a slender 2-1 lead as the minutes ticked down, a quick counter-attack saw Suarez surge forward and Daniel was right up there with him – watching the replays, you could tell from the get go that something special was on the cards.
In a lot of ways, it was a sight many fans thought never see again; neither did Steven Gerrard."Nobody tried harder than me to make him stay and he knows exactly what I think of him" said the skipper. During the summer the Uruguayan waged a very public PR campaign to engineer a move away from Merseyside. First, it was Real Madrid apparently lining up as a potential suitor, and then, a series of bids from Arsenal would test their resolve. In the end, Suarez would remain at Anfield, much to the delight of the Liverpool captain. "I knew if we could keep him here, the better our chances would be" said Gerrard, who continued, "He is a special type of footballer and he gives us something different".
There's little surprise that the return of Suarez ushered in a number of firsts for the side this season. His second half goal against the Black Cats was not only the first time Brendan Rodgers men have scored outside of the first period, but it was also the first time the Reds scored more than two goals in one match. There's no question that a less than fit Daniel Sturridge did an excellent job in the absence of the Uruguayan; scoring the winner three matches in a row to put your side top of the Premier League is no small feat, but there would be few that would argue that the Englishman doesn't look less isolated with the South American in the side. There were concerns that his game would change when Suarez was re-introduced, but it's looking like those worries are moot; so far, it has just gotten better.
–Steven
Do you think Liverpool will benefit from the return of Suarez? Or will be divisive Uruguayan only cause more problems? Will Daniel Sturridge be a better player with the South American in the squad? Or would you rather see someone else brought in as a foil for his genius? Let us know in the comments, on Facebook or Twitter. We'll be around…