Luis Suarez Takes a Chill Pill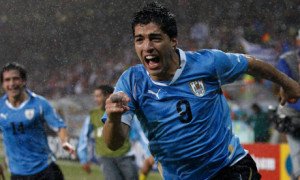 Once again, Luis Suarez is saying that he's a changed man. Following Liverpool's 3-1 win over Crystal Palace last weekend, the striker – who for the second match on the trot found the back of the net – told the media that he's settling down .
"I am aware that in recent matches that I played I've been calmer" said Suarez, who continued "I am very self-critical and I realized that playing well, with more tranquility, is helping me a lot. I realize and I prefer to continue and not be the same as before." So far, it appears the striker is on the straight and narrow; in his first two matches since returning from a 10 game ban for biting Chelsea defender Branislav Ivanovic, the Uruguayan has found the net twice and avoided any of the childish – or violent – outbursts that marred previous seasons on Merseyside.
Much to the chagrin of the Liverpool hierarchy, Suarez paraded his 9-day old baby boy Benjamin around the Anfield pitch along with his daughter Delfina prior to kickoff. Although the Reds management initially didn't see it as appropriate, they eventually bowed to this South American tradition and allowed the striker to show off his pride and joy to group of supporters few thought he'd ever play for again.
After a summer of turmoil, the Uruguayan revealed that it was the Reds fans – along with club Captain Steven Gerrard – that ultimately convinced him to stay at Liverpool. "His attitude was an extra boost for me to take the decision to stay in Liverpool; both he and the fans of Liverpool influenced much for that" said Suarez ahead of his countries crunch World Cup qualifier with Ecuador. While it's a nice sentiment, the News Desk is pretty sure that John W. Henry's very public insistence that he wouldn't be sold – coupled with a lack of a bid from Real Madrid – is what really made up the strikers mind; still, it's nice when the eternally placated becomes the placator.