Rodgers and Rush Think Sturridge Could Be One of the Best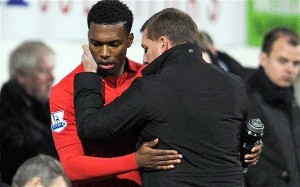 If you have a striker that's as in-form as Daniel Sturridge, you can't help but fall all over yourself with praise for them and leading up to Liverpool's meeting this weekend with West Bromwich Albion, Reds boss Brendan Rodgers, and a living legend, outlined why they think in a few years time the 24-year old will be one of the top strikers in Europe.
"His goals to games ratio since coming here has been remarkable. When he is given the opportunity, he produces" said the Reds manager, who continued, "He's a natural goalscorer but he's got so many other things to his game – his pace, his power, he's got great feet." Since his January move from Premier League rivals Chelsea, Sturridge has found the net 17 times in 22 league appearances – including goals against both Manchester sides, his former club and Swansea City.
This season, we've seen 7 goals in 8 league appearances; Sturridge kicked off the campaign by scoring the winner in each of the Reds opening three matches – and that's without being anywhere close to full fitness. "I genuinely think, in the next couple of years, he'll show he can be one of the top strikers in Europe" enthused Rodgers and he's not the only one who thinks that. Ian Rush, a man who knows a thing or two about putting a ball in a net, tends to agree.
"Every time he plays he looks like he is going to score. And he excites people when he's on the pitch" said the Liverpool legend. Sturridge bagged his 20th Liverpool goal in all competitions last Saturday at St. James' Park when he headed home Luis Suarez's cheeky cross to become the fastest Reds player to 20 goals – in only 26 matches — since the First World War. It took Ian Rush a leisurely 34 outings to hit the same milestone for Liverpool, but the Welsh striker went on to become the Reds all time leading scorer with a massive 346 goals to his name. While the former Chelsea man may still have some ways to go, Rush thinks he's going to build on his good start. "Daniel has got to be looking for between 20 and 30 goals this season. And I think him playing regularly for England is also going to help him for Liverpool."