Kenny Dalglish, Marcel Desailly and Peter Schmeichel to Coach in Indian Super League?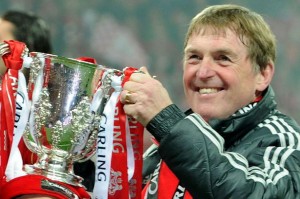 The News Desk has see some weird things come through the fax machine, but we just got something about former Liverpool manager, current non-executive board member and all around living legend Kenny Dalglish accepting a coaching job in the new Indian Super League. If this were a text message, it would probably look something like this: OMG! WTF GTFO
According to the Press Trust of India, Dalglish is set to join France great Marcel Desailly and iconic ex-Manchester United goalkeeper Peter Schmeichel in a league that, according to the press release, will be made up of world-class international players playing with the best from India and will run from January to March. That all sounds good and well – emerging leagues can be exciting and all – but we're still trying to sort out how Dalglish got mixed up in all this.
The former Reds boss, who left by mutual consent (or was quietly sacked) after results during his second spell in charge didn't quite cut the mustard, recently returned to play a part within the club after accepting a non-executive director role following an offer from the club hierarchy. Principal Liverpool owner John W. Henry spoke of his "delight" at having Dalglish back in the fold, but we're not quite sure how this latest development will impact his new job with the club.
Football has experienced a surge in popularity in India over the past few years and with increased interest comes increased revenue. Star India, which also owns the broadcast as well as the sponsorship rights for the league, is said to be sinking money into content creation and expanding availability for the league matches to millions of households. Mumbai, Kolkata, Chennai, Delhi, Guwahati, Bangalore, Kochi, Goa and Pune – where Liverpool are slated to open an academy in January – are said to be the nine cities up for bidding; where the King might slot in remains to be seen, but we'll be following this story with a peculiar kind of interest.