Kolo Toure Focused on "Getting Those Three Points" Ahead of Arsenal Trip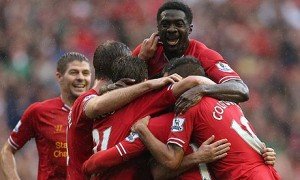 Kolo Toure has become a firm Kop favorite since signing as a free-agent in July and now that he's cemented his place in Brendan Rodgers back-three, the experienced defender looks to be a lock to face former club, and table toppers, Arsenal on Saturday evening. Although the old guard Gunner is looking forward to a trip to the capital, sentiment doesn't come into it.
The big Ivorian made 326 appearances during his seven years in North London and was part of Arsene Wenger's "Invincibles" who went an entire season without losing a match en route to the Premier League title in the 2003-2004 campaign. While Toure may understandably harbor some fond memories of that momentous accomplishment, it won't be on his mind this weekend. "I want to show that Arsenal made a mistake by letting me go" Toure told the Liverpool Echo. "I'm going there to fight. I want to show them what I can do and help my team – Liverpool — to win." The 32-year old has been an integral part of Liverpool's success this season with the Reds sitting third in the table and level on points with Chelsea.
After leaving the capital for the cash flush pastures of Manchester City in the summer of 2009 for £16mil, the former Gunner was handed the captains armband by then manager Mark Hughes. A few years and a failed drugs test later, the Ivorian would make 14 appearances for the Citizens as they claimed their first League Title for 44 years. Although he's put some distance between himself and Arsenal, the former City man still shows signs of a grudge with Gunners boss Wenger, but it doesn't sound like he'll let that affect his focus come Saturday.
Toure knows that "getting those three points" is the ultimate goal for the team, but having his own individual mission won't hurt and could give him an extra little bit of get up and go come Saturday evening. "I'll definitely try to do my best to show them that I'm still a great player," said the defender, who continued, "But I need to perform for my team — that is the most important thing." Well, that and those three points.