Liverpool Visit London with a Chance to Go Top: Arsenal Preview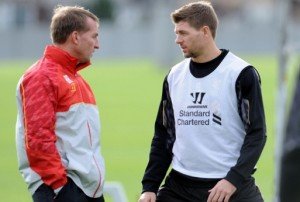 Saturday will be the acid test; you could argue – and might be right – that Liverpool has had a rather easy opening to the season. West Brom, Stoke and Aston Villa are always massive pains, but outside of perennial contenders Manchester United, we haven't really squared up to the heavy hitters thus far. A journey that will either prove our mettle or leave us stranded by the side of the road starts this weekend with a trip to the Emirates Stadium and meeting with one of those top quality teams.
After a shaky start, the Gunners have taken the league by the scruff of the neck and currently sits at the top of the heap; we've seen this show before and about halfway through they begin to implode. Injuries and inexperience are usually the main culprits pulling Arsene Wenger's side down the table and it looks like the downward slide has already begun with a number of key squad members taking up residence on the treatment table. Will Saturday be the start of the annual Arsenal meltdown?
Their opening day loss to Aston Villa looked like it would set the tone for the season, but is now looked at as an anomaly as the North London side sit pretty at the top of the standings, recording seven wins in nine matches. Much like Liverpool though, you could argue – and might be right — that the Gunners have had an easier start to the season than most with Tottenham their only opponent thus far with Champions League ambitions; and much like the Reds, things are about to get real.
Arsenal, who face Liverpool and then Manchester United in their next two Premier League fixtures, are starting to show cracks in their foundation after an impressive start to the season; a loss to Champions League runners-up Borussia Dortmund in Europe came along with little surprise or condemnation, but their League Cup exit at the hands of Chelsea midweek – with the Gunners fielding a less than full strength side might I remind — was an acrimonious affair which was only successful in raising an eyebrow or two with a stark reminder that the Gunners fringe players don't make the starting eleven for a good reason.
Arsenal boss Arsene Wenger brushed off suggestions that the losses would dent the confidence of his side, and in a move favoured by our own manager, decided to wax philosophical on the long-term rather than address any present day short comings.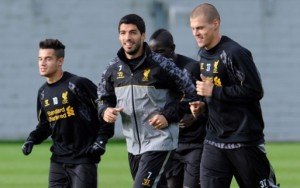 "Let's not reach a conclusion too quickly," said Wenger. "If you take the points we have made since 1 January, it's more than everybody else. Over a longer distance, you'll see more of the quality of the team than in the last two games." Quality is exactly what they're going to need against Liverpool if they want to stay in pole position, but with Mathieu Flamini joining a laundry list of injured players, Arsenal could very well be left short in the middle of the park as Liverpool welcome back attacking midfielder, and quality assurance expert, Philippe Coutinho.
Whether or not the Brazilian will have enough in the tank to start the match, or whether he should be risked at all, is a point of contention, but we've got a pair of players in Luis Suarez and Daniel Sturridge that are setting the Premier League alight. The Uruguayan – who was a target of and asked to leave for Arsenal during the summer following a series of bids from the North London side – has found the net six times this season while Sturridge is leading the race for the Golden Boot with an astounding eight goals in nine appearances. Unit battles will be key to winning this match and you can expect a good one between the best strike force in the league and Arsenal's central defensive pairing of Per Mertesacker and Laurent Koscielny.
The mobility of the front two will cause all sorts of problems for the less than agile Arsenal backline, but that won't be the only one to watch. Mesut Özil – who the Gunners signed from Real Madrid on transfer deadline day – will play a big role in more ways than one. The German, who has a pair of goals and three assists to his name in his first six appearances, will not only be a threat going forward, but will look to restrict the movement and amount of time Lucas has on the ball. Our more defensive minded Brazilian put in a good showing against West Bromwich Albion last weekend, though at least part of that can be attributed to the fact that after he won the ball he was rarely challenged straight away for it. It's safe to say that won't be the case come Saturday with either Özil or Jack Wilshere hassling Lucas at every possible turn.
If Coutinho is ready to go from the outset, Liverpool captain Steven Gerrard is expected to step back from the Number Ten slot to partner Lucas in a more withdrawn role with Jordan Henderson the man to miss out. Jose Enrique remains an injury concern, which should nail down the left-wingback role for Aly Cissokho, while Glen Johnson remains a lock for the slot on the right. Brendan Rodgers is expected to stick with his back three of Kolo Toure, Martin Skrtel and Mamadou Sakho with a change this late in the game a little too reckless for the cautious Northern Irishman. Playing only three at the back might seem madness against a usually mobile Arsenal outfit, but injuries to Theo Walcott, Lucas Podolski and Alex Oxlade-Chamberlain takes a bit of the bite out of what's usually a potent attacking unit – still, we'll do well to keep Olivier Giroud – who has five goals this season – off the score sheet and restrict the chances Özil is able to create.
You could argue – and might be right – that if either side wants to shake off the restraint both sets of fans have harbored in regards to their team's title credentials, three points on Saturday would do just that. Although neither side wants to get carried away just yet, taking out a fellow pace-setter always cures what ails you and leaving a potential contender for a Champions League spot embarrassed and empty handed does wonders for the self esteem.
–Steven
Make sure to stop by before the match for the line-ups and afterwards for a full match reaction and other assorted goodies. In the meantime, give us a follow on Twitter and a like on Facebook; unless you have something better to do.