Brendan Rodgers on Arsenal: Post Match Interview and Stats Compared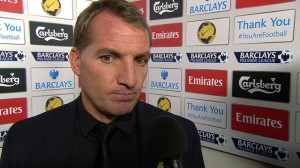 There's a massive difference between beating West Bromwich Albion at home and going to the Emirates Stadium and beating Arsenal — we knew that going into yesterdays game and we'll do well to forget it in the aftermath.
A 2-0 reversal at the hands of the North London pace-setters brought a halt to some of the more ambitious talk of challenging for the title and setting records to a halt — something that Liverpool boss Brendan Rodgers isn't exactly happy about, but will accept with a grain of salt. "Tonight we weren't quite firing as we would want to be so, with that expectancy, I'm sure people will look at it and be a bit more realistic" said the Reds manager, who continued "We're obviously disappointed with the result – sometimes when you get beaten by the better team, you have to accept it."
  Video by MrBeanyman62
Really, we could have done worse

It punished us last season and it did it again today; despite keeping things on track by creating 10 chances — to our season average of 10.2 per match — Liverpool could only put 40% of their shots on target yesterday against Arsenal. When you can only manage to put 3 shots in 90 minutes on net, the lack of sharpness makes a massive difference. Over our opening 9 matches, we've averaged a semi-respectable 54% shot accuracy, but when you compare that with Arsenal's 73% yesterday, respectable no longer comes into it.

Still, we did create more than our hosts with Arsene Wenger's side conjuring up 9 chances to our 10 and each of the opportunities we did have came through key passes. We kept the ship steady with an 83% pass accuracy — right in line with our season average — though we only ended up with 47% of possession; a poor result on our end and a 6% drop from our average of 53% since the beginning of the campaign. The Gunners, in contrast, completed 84% of their passes to a previous season average of 85% coming into their meeting with the Reds.

There were long stretches of the match — and not for the firs time this season — that the Reds looked outclassed and out of sorts when defending. Surprisingly, the Liverpool rear guard won 57% of their duels — an increase of 4% over our regular 53% — and were successful in 79% of our tackles. Arsenal won the same percentage of their duels on the day, though they came in with a marginally better 56% average on average — and they didn't ship 2 goals for the third time this season.

Stats courtesy of Squawka
The breakdown between the Reds midfield and the much lauded strike duo of Luis Suarez is and continues to be a hot topic of conversation. Although the return of Philippe Coutinho from injury could be vital to linking those two squads up once again, Brendan Rodgers was quick to take a veiled swipe at the depth — or lack there of — in his squad. "Tonight was a disappointing result for us but if you look at the squads that are around us, they have been in the Champions League now for a number of years and they have invested quite a lot" said Rodgers.
Liverpool attempted to bring in a number of marquee midfield signings this summer, but their lack of European football was a major barrier to the recruitment process. Still, surprisingly, Liverpool created more than their better placed hosts. "It was a game they deserved to win, but we were always in the game because of our ability to create chances" mused the Reds boss. Arsenal, on the other side of the coin, was able to bring in highly rated midfield maestro Mesut Ozil from Real Madrid on transfer deadline day after enduring a bit of a torrid summer in the market, but created nine chances to Liverpool's ten — though they buried two of theirs.
"For us the ambition is to be up there and fighting to be in that top four. It's a huge challenge for us in terms of where we're at, but we're ready to take on the challenge" a still defiant Rodgers said. The aim remains the same and a setback at Arsenal — something that could of happened whether this was one of the dominant Liverpool sides that marauded to 18 league titles or Brendan Rodgers blossoming team — won't take our sights off a return to the Champions League. We're not out of the running yet; there's still a whole lot of football left to be played.
–Steven
Is this the end of the world or just a blip on the radar? Let us know in the comments or find us on Facebook or Twitter — we'll be around.