Simon Mignolet Calls for Immediate Liverpool Response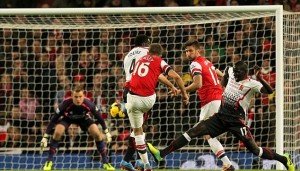 Despite allowing two goals in yesterdays defeat at the hands of Premier League pace-setters Arsenal, Simon Mignolet is one of the few Liverpool players that could leave the Emirates Stadium without any sort of bile being directed his way. As he's done so many times this season, the Belgian backstopped the Reds faltering defence and made sure the scoreline equaled out to a respectable loss rather than an embarrassing rout.
"Unfortunately, we came across a good Arsenal side – they put us under pressure and scored an early goal. Afterwards, you're chasing the game a bit" said Mignolet in a chat wit the official site after the match and the 'keeper echoed Brendan Rodgers calls for a response next week. "Arsenal are doing really well at the moment and they are a good side. That doesn't mean we're not disappointed, but the most important thing is that we can't drop our heads after this performance."
After rivals Chelsea lost 2-0 to Newcastle earlier in the day, Liverpool had a chance to leap frog their hosts at the top of the table with the Gunners leading the pack by only two points — instead, Arsene Wenger's side went five points clear and look to be the early favorites for the Premier League crown. The reversal at the Emirates was the Reds second loss of the season and though they're still in the race for the Champions League, a result next weekend is crucial if they want to keep up to their rivals.
"It's always important to respond after a defeat. I'm sure everybody will be prepared to work hard from Monday onwards for the preparation against Fulham" enthused the Reds 'keeper who isn't ready to see the side rest on it's laurels quite yet. "You can never be satisfied with anything; we've had a decent start, but we have to make sure we build on that and look forward." With the Cottagers struggling and the Reds angry, we're looking forward to something special next time out…