This is Not a Test, This is Cardiac Arrest: Everton Preview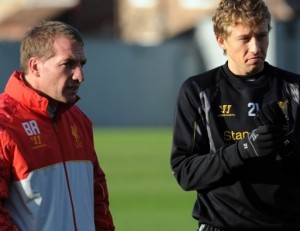 The Merseyside Derby doesn't need any extra edges, but it's been handed a substantially sharp one ahead of Saturday's first meeting this year between cross-town rivals Liverpool and Everton – one needs only to glance at the Premier League table to see what it is. A mere three points and four very tight spaces separate Red from Blue in a title race that's shaping up to be as close as it's ever been. It may only be November, but letting up isn't an option.
In this fixture, it's never even considered; the mere thought of giving less than your all in a match that can make or break entire seasons is met with nothing less than mass condemnation. Even when you put the over-hyped rhetoric aside for a moment and look at it for what it is – a match worth three points, just like the others – anything less than a win tomorrow looks like an absolute catastrophe.
For either team, this could very well be a campaign defining moment – though if you want to go by the history books, Liverpool is likely to fare better than they're neighbours. The Toffee's have managed only one win in the last 13 meetings between these two sides; you'd have to reach all the way back to October 2010 to recall the last time they finished this fixture on top when a 2-0 win at Goodison Park spoiled John W. Henry's first match as the primary owner of the Reds. Since then, they haven't fared quite as well – something new Everton boss Roberto Martinez is keen to rectify.
The former Wigan manager, who held talks with Liverpool ahead of Brendan Rodgers being appointed, has called on his players to eschew the hot-headed, passion driven displays that have lead to a miserable record in this fixture in favour of a more focused approach. "You can be full of passion and understand that every ball is there to be won but it is not a game that you can get yourself carried away with and play with your heart, because you are risking an emotional performance that is not going to help towards the team winning" said the Spaniard.
With both Liverpool boss Brendan Rodgers and his counterpart Martinez favouring a more patient, possession based style of football, this could be one of the strangest, down tempo derbies ever played out; and by the Everton bosses estimation, this could be the best thing for his side. "At the end of the day we want to perform well and we want the performance to give us the right result. Nothing else. We don't have to get emotional about it along with the fans" mused Martinez and he could very well be onto something.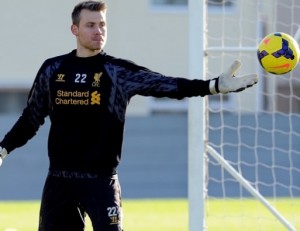 In their last ten meetings, the two sides have shared 4 red cards and an astounding 42 yellows, bringing a new meaning to the phrase "colourful display". Staying focused on the game rather than letting your emotions get the better of you might be some good advice, but with Everton failing to score in their last two outings, maybe a little passion is exactly what they need – that, and getting Romelu Lukaku firing again. The big Belgian – a revelation since arriving at Everton on-loan from Chelsea – has gone quiet over the last little while and the duo of Luis Suarez and Daniel Sturridge, who have 16 league goals between them, have taken center stage. Where the Toffee's are having problems in front of the net, the Reds are absolutely flourishing and their 4-0 demolition of Fulham going into the international break is a testament to that, but the post-international break Liverpool could be a different team all-together.
Martinez has no fresh injury concerns going into the weekend, but Rodgers has a bundle. Jose Enrique has been ruled out until the end of January with the influential fullback preparing to go under the knife to correct a long standing knee problem. Daniel Sturridge, who has been nursing a dead-leg for the past couple of weeks, is also a doubt after returning from England duty more crocked than when he left. Steven Gerrard has been undergoing injections into his back in order to play and Luis Suarez had to complete a grueling flight from Uruguay following La Celeste's win over Jordan on Wednesday night.
While Enrique and long term absentee Sebastian Coates are the only players that will undoubtedly miss out come Saturday, we could see Rodgers trot out the 4-3-2-1 that worked to great effect earlier this season should Sturridge miss out. Daniel Agger and Martin Skrtel are expected to keep their spots in the heart of the defence with Glen Johnson on the right flank and either Aly Cissokho or Jon Flanagan deputizing for Enrique on the left. Steven Gerrard, Jordan Henderson and Lucas will be expected in the middle of the park with Coutinho, Victor Moses and Luis Suarez looking to cause Everton 'keeper Tim Howard and company all kinds of problems.
Both the history book and the form book point to Liverpool making out of Goodison with all three points tomorrow – but this is never an assured thing. It's all cardiac arresting nerves from now until kick-off as my brain works overtime running through scenarios and the prospect of dropping out of the Champions League places at the hands of the Toffee's twist my guts. It's that kind of personal, base connection to the game that makes it all the more enjoyable when the ball hits the back of the net and the final whistle signals victory – here's to hoping it's for the right team.
–Steven
Got a prediction or something to say? Have a go in the comments or find us on Facebook or Twitter for a but of pre-match banter. We'll be back in the morning with line-ups and other goodies.