Coutinho will be "Fine" for Norwich Visit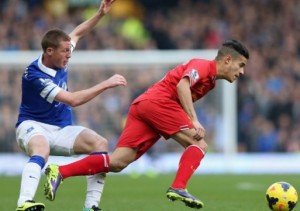 With the news that Daniel Sturridge will be out until mid-January still resonating around the league, Liverpool fans were suffering some nervy moments in the buildup to the meeting with Norwich City, but Reds boss Brendan Rodgers has put our fluttering hearts to rest – well, somewhat at least.
In the aftermath of the 3-1 defeat to Hull City on Sunday, the Northern Irishman revealed that Brazilian playmaker Philippe Coutinho was carrying a high-ankle sprain going into yesterdays match and that he required a series of injections just to be fit enough to make the bench after not training at all during the week. The 21-year olds introduction in the 65th minute certainly livened things up a bit, but even his influence wasn't enough to turn the tide. Obviously, this left questions about Coutinho's availability for our midweek match – something the boss was quick to clarify.
Speaking to the official site in his pre-Norwich press conference, "Philippe will be fine" said Rodgers. "He's had no further reaction from the game yesterday. He's trained this morning, so all being well he'll be fit." Liverpool, who went into the weekend in 2nd place, almost tumbled out of the top four following their capitulation at the KC Stadium and their lack of chances created was one of the major talking points in the wake of the defeat.
The Reds created only 7 chances over the 90 minutes as the Tigers kept their more prestigious visitors at bay en route to recording their first win over the Merseysiders in their long history. The absence of Sturridge will be a blow for Brendan Rodgers side as they look to keep the pace at the top of the table and Coutinho will play a major part in that – hopefully we can keep the Brazilian fit over the busy Festive Fixture period.