Roy Hodgson Has Some 'splainin To Do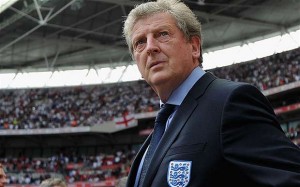 If England boss Roy Hodgson wasn't one of the most hated figures around Anfield already then he's certainly staking a claim for his place in the pantheon as the former Liverpool boss, in a recent interview, remained unapologetic regarding his decision to play Daniel Sturridge for 90-minutes in England's 1-0 loss to Germany.
Reds boss Brendan Rodgers was incensed when Sturridge, who was sent to the England camp carrying a knock, returned home worse for wear with the first Merseyside Derby of the year only days away. The 24-year old, who was only fit enough for the bench, went on to score the equalizer in the dying minutes of the match as Liverpool drew 3-3 with their neighbors, but having the influential striker fit from the get-go could have made a massive difference in a very important match. Hodgson, who fails to acknowledge the bigger picture despite his copious number of years in club management, isn't that bothered though.
"I suppose you could argue we did put his resolve to the test. I might have been guilty of that but I don't apologise for it" said the England boss, who continued. "I am delighted he did get out there, even though he maybe didn't feel 100%, because that means in the future I will know I can trust him in an England team and he is not going to be playing when he feels like it — he is going to be playing when he's fit."
Excuse me for a moment while I try to digest that utter load of garbage; when, exactly, was Sturridge fit enough to play? And furthermore did Hodgson just suggest that he's been shirking his England duties?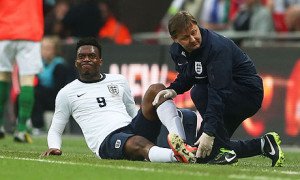 The 24-year old missed out on England's crunch World Cup qualifiers in September – and sparked the first in a series of club or country rows with some out of context quotes. It was later confirmed , by the England setup no less, that the striker was sent home from training camp after the national team's medical staff deemed him unfit to train, let alone play. Sturridge also missed out on the Three Lion's meeting with Chile in the build-up to the Germany match with the striker confirming that the knock he picked up against West Bromwich Albion was still bothering him.
"The thing is, we played him because medical opinion told us [he could play]. There was nothing on the scans and I believe the [latest] injury was nothing to do with the injury he was complaining about" said Hodgson. While swathes of the Liverpool faithful wouldn't bat an eye if the striker was playing hooky from the national set-up, very strong quotes from the striker himself in the wake of criticism from Rodgers seem to suggest otherwise.
Having confirmed that he had "blood underneath the muscle" in his thigh and that he was in "pain" when he shot from long distances, Sturridge did not sound like a player fit enough to take the field despite his assertions to contrary. In the wake of Brendan Rodgers criticism of both the FA and the player himself for jeopardizing his future availability, the former Chelsea man took aim. "Regardless of what condition you're in, fit or not fit, if you are selected for England you go out there and do your best" said an obviously defiant Sturridge.
It's hard to fault a player for wanting to represent his country, but the hard-line taken by Hodgson in the aftermath leaves you with food for thought. Had Wayne Rooney been carrying a similar injury, would he have been risked? Certainly not under Sir Alex Ferguson – one of Hodgson's good friends – he would not. This, quite obviously, begs the question whether Hodgson, a man who so quickly points to his vast banks of experience whenever his judgement is questioned, remembers that club football is the bread and butter of the international game. If players aren't performing at the club level — or are unable to even give it a go due to injury — they're not going to be selected for their country; plain and simple.
While no one actually expected an apology out of the Three Lion's boss, even a token smattering of empathy would have sufficed. Instead, in response to the news that Sturridge will be out of action until mid-January with an unrelated injury, in typical self centered fashion, we got this crass callousness from the England man: "They are better [off] getting injured now, to be honest."
And some wonder why the national team's fortunes are jeered on Merseyside…
–Steven